Sponsor the CASA Superhero Run
This "Super September" thousands of runners, children, and families will participate in the first ever virtual CASA Superhero Run. Thanks to generous sponsors like you, this 11th annual event can help nearly 3,000 children in the child welfare system across Central Texas. Check out sponsorship opportunities and benefits below, and see all current sponsors on the homepage. Questions about sponsoring? Contact Lauren Zurbrugg, Chief Development Officer, at 512.578.9242 or via email.
The CASA Superhero Run benefits 3 different CASA programs. Please select the CASA program your sponsorship is intended to support.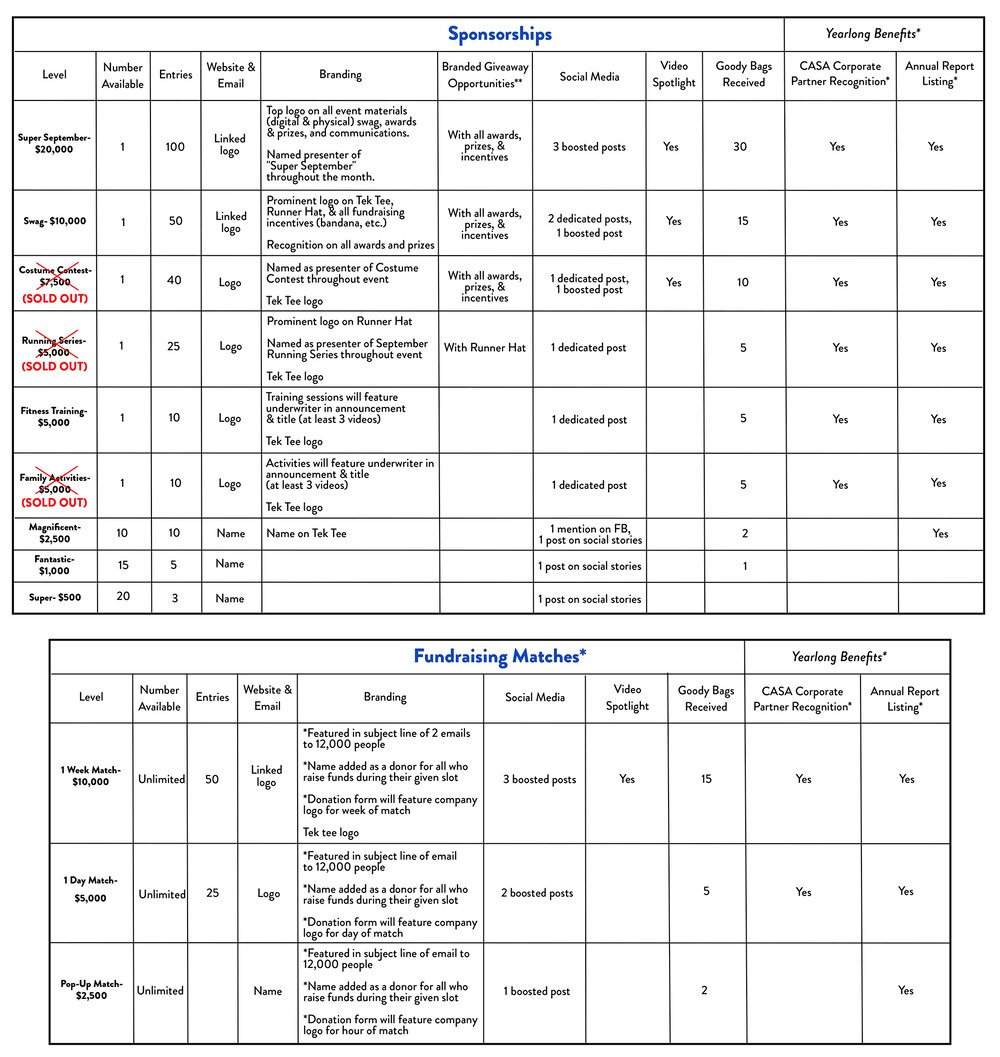 *CASA of Travis County only
**Opportunity to include branded materials with awards, prizes, or swag
Notes:
Entries will allow participants to compete in the 5K as well as any of the costume contest or other competitions
To be included on branded items, logo must be received by August 14
Tek Tees will be awarded to all fundraisers who raise $100+
Participants who participate in the running component of the event will receive a hat
Thank you to our 2020 Superhero Sponsors
Guardian Sponsors​
Costume Contest Sponsor​
Marvel Sponsor​
Running Series Sponsor
Family Activities Sponsor ​
Defender Sponsor ​
360 Press Solutions ​
Magnificent Sponsors ​
Greater Texas Credit Union ​
Velocity Credit Union ​
The Zurbrugg Family ​
Pop-Up Match Sponsor ​
The Siegel Family ​
Shield Sponsors ​
Austin American-Statesman ​
The Austin Chronicle ​
Fantastic Sponsor ​
CJR Foundation ​
Super Sponsors ​
Bath Fitter ​
Maxwell Locke & Ritter ​
RiverKids Pediatric Home Health ​