REGISTRATION IS OPEN!
This is our 12th Annual Texas Autism Bike Ride & Fun Run! The ride begins and ends at Georgetown High School in Georgetown, TX, and benefits the Autism Society of Texas. All proceeds are used to fund programs, promote education and awareness, and provide access to resources for families and adults living with autism in Texas.  Choose from bike rides of 9, 24, and 42 miles, or a 1.5 mile Fun Run/Walk. All events start & end at Georgetown High School.
Can't be at the event? We've got a built-in virtual option! You can still join the fun and support Autism Society of Texas with our Virtual Ride & Run! All registrations include the virtual option! One week before the event, (beginning October 16th), set up your route, track your miles, and share your progress with us! You can also view all of our resource fair groups and businesses here virtually! Learn more here!
Create a friends & family team, company team, or register as an individual! We'll be recognizing Leader Board winners at the event and online, and recognizing company teams on social media who raise $500 or more!
The registration fee includes an event T-shirt* and virtual swag bag, as well as lunch, snacks and drinks at multiple rest stops along the routes. It also includes access to the Resource Fair, bounce house, as well as games and activities! All registrations also have access to our virtual option and virtual resource fair. Registration will increase as the event gets closer, so register now for the best price!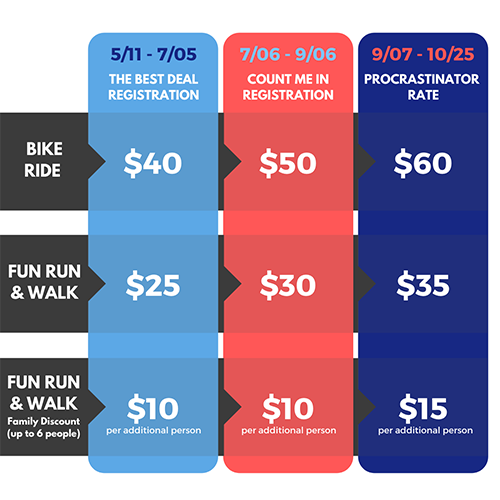 If you can't make it out to the ride/run then you can also register as a fundraiser for free.
ROUTES are of approximately 9, 24, and 42 miles with START & FINISH at Georgetown High School. All routes pedal through moderately flat terrain interspersed with rolling hills on the eastern side of Williamson County.  Riders must obey all traffic laws. Helmets must be worn. Rest stops will be available throughout the ride. SAG vehicles will be patrolling the routes to help with mechanical troubles and to pick up riders with any problems. Please be prepared to handle your own flats and minor problems.  Since the roads are not closed, all bike rides are recommended for older elementary aged children, or tweens/teens who are riding with an adult 18+. 
RIDE STARTS AT 8:00 am with no riders leaving after 9:00 am.  All riders must finish by 1:00 pm, so choose a route that gives you plenty of time to finish.
The 1.5 mile Fun Run/Walk at Georgetown High School is suitable for younger children who want to bike, walk, or run. Strollers welcome! The Fun Run/Walk will be a different course this year, with 3 laps around Georgetown High School grounds at the resource fair area in order to avoid parking lots. 

The walk and fun run will begin at 10:00 am and the post-event party will follow. See the full event schedule for more details. 
Onsite registration will be available the day of the event, but we suggest you register in advance to save time, guarantee your t-shirt size, and help us better plan for the event! Thank you!
Review maps & parking information here.
The event is rain or shine and refunds are not available due to weather or moving to a virtual event due to coronavirus safety.
*T-shirts: Register by 9/18/2020 to guarantee your t-shirt size & delivery at event. After 9/18/2020 we cannot guarantee size, and you may receive it after the event.

COVID-19 Information
The Autism Society of Texas will follow local, state and federal guidelines when it comes to health and safety regulations related to COVID-19 to ensure the well-being of our participants, volunteers, and staff. If large gatherings are not permitted, or our event violates any health guidelines or regulations of any kind, or AST Board and staff feel it is unsafe to proceed with the in-person event, we will revise the event to be our very first entirely virtual Texas Autism Bike Ride & Fun Run, complete with curbside t-shirt pick-up! (Shipping info will be sent to those outside the Austin area). Details will be emailed and announced on social media as needed. We certainly hope to celebrate with everyone in-person this October, but whether we are together or apart, supporting children and adults with autism in Texas must continue, and we count on your support to do that! Thank you!
Weather Plan
The event is rain or shine. In the case that any bike rides have to be delayed or cancelled due to heavy rain, we will send you an email and announce on social media. If there is light rain the events will continue. We will cancel the whole event (Resource Fair and Fun Run) only if there is dangerous weather- i.e. lightning/tornadoes/severe storms, which will be announced by 7:30 am on the day of the event. Please check our Texas Autism Bike Ride Facebook page & Twitter for event information on Sunday morning in the event of rain or other bad weather. Thank you for your understanding.