Texas Autism Bike Ride & Fun Run is going Virtual!
Due to concerns surrounding COVID-19 we have decided to make the 2020 Texas Autism Bike Ride & Fun Run fully virtual this year. Complete your event, then join us from home for our first ever Virtual Texas Autism Bike Ride & Fun Run!
This is our 12th Annual Texas Autism Bike Ride & Fun Run! This year will be our first ever virtual ride & run, and it benefits the Autism Society of Texas. All proceeds are used to fund programs, promote education and awareness, and provide access to resources for families and adults living with autism in Texas. 
The pandemic has not stopped our work on behalf of children and adults with autism, and we need your support and participation now more than ever! 
How does a Virtual Ride & Run work? While we can't be together this year, you can still join the fun and support Autism Society of Texas virtually! Chose from a 9, 24, and 42 mile bike rides or a 1.5 mile fun run/walk and complete it on your own route on your own day from September 27th - October 18th! Wear your event t-shirt, track your miles, and share your progress with us through videos and photos* with the tag #AutismRideRun so we can all have fun together while still social distancing! If you would like to bike the original Georgetown bike routes on your own you can view them here.

During those three weeks participants will have access to special Zoom cycling and running tips to get you warmed up and ready for your ride/run! On October 22 we'll have a live Virtual Resource Fair Expo where you can hear from some great community businesses and organizations! Then on the original event date, October 25, we will have a live virtual event at 6pm announcing our top fundraisers and sharing a Celebration Finale Video compilation of participants!


How does a Virtual Resource Fair work? You'll have an opportunity to hear from our resource fair businesses in real time, asking them questions and learning more about their services. Before then, you can view all of our resource fair vendors and businesses here virtually! 
Create a friends & family team or register as an individual! We'll be recognizing Leader Board winners at the event and online!
Start a company team! Get recognized on social media and the live awards event when your company team raises $500 or more!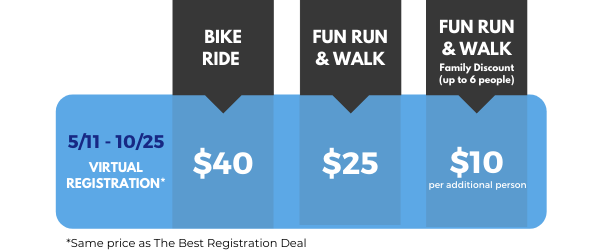 ​
If you don't want to ride/run then you can also register as a fundraiser for free.
The registration fee includes an event T-shirt*, virtual swag bag, and virtual resource fair. We will have curbside t-shirt pick up dates (dates TBA) at our Austin office before the week of the Virtual Texas Autism Ride & Run so you can wear your shirt and show your support while participating on your own! (If you need your t-shirt(s) mailed to you shipping costs will not be covered by AST). Registration fees will stay at our lowest price and not increase for the virtual registration.

*T-shirts: Register by 9/18/2020 to guarantee your t-shirt size & delivery at event. After 9/18/2020 we cannot guarantee size, and you may receive it after the event.

*Photo & Video Submissions: Participant's photos and videos must be shared online with the #AutismRideRun or submitted to kate@texasautismsociety.org by 10/18 to guarantee it be included in the event video being shared on 10/25.
COVID-19 Information
Participants safety is the Autism Society of Texas' top priority, so we encourage all participants to follow local, state and federal guidelines and practice social distancing while completing their ride or run/walk.
We will have curbside t-shirt pick up dates (dates TBA) at our Austin office before the week of the Virtual Texas Autism Ride & Run, please wear a mask.


The event is rain or shine and refunds are not available due to weather or moving to a virtual event due to coronavirus safety.