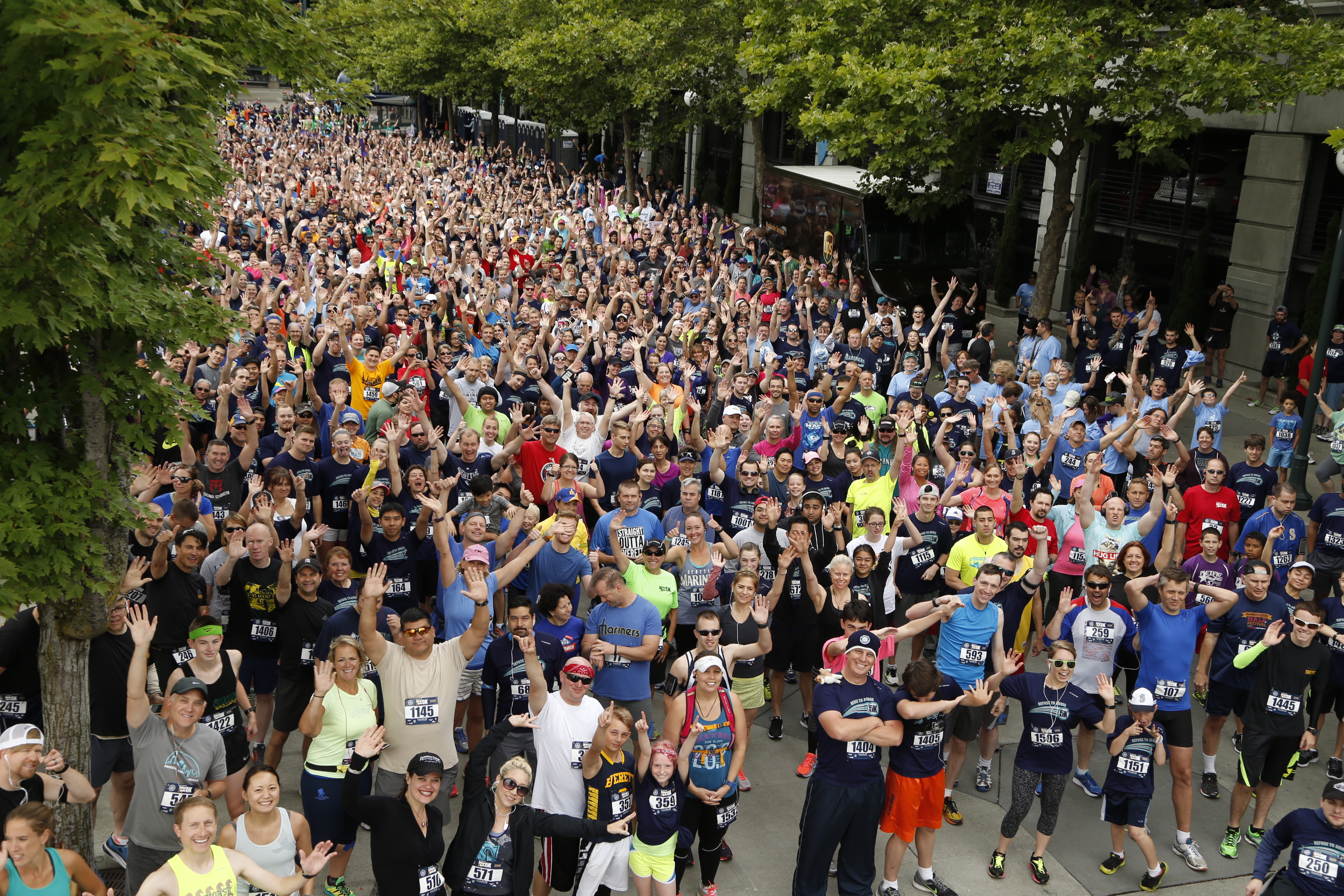 ​
What does it mean to participate virtually?
On race day (July 17, 2021), you walk, jog, or run a 5K (3.1 miles) on your own, wherever it is safe to do so. You can be in your neighborhood, on a treadmill, or go on an adventure in a nearby neighborhood. The USATF website is great for mapping out a run. Just enter the zip code of where you want to start and go from there! We'll be interacting with you across social media channels throughout race day to make the experience fun and interactive. We will kick of the live event at 9:00am PST at Facebook.com/WSCADV.

Do virtual participants get the usual race swag? Yes! This event is known for having unique finishers' medals and great shirts and this year is no different! All registered participants, both in-person and virtual, will get race day swag. Virtual participants can either pick up your swag at T-Mobile Park on July 17 between 9:00am - 11:00am or we will mail it to you. We'll have a safe, socially distant method for you on the plaza next to the Mariners Parking Garage. If you don't come to race day pick up, we will automatically mail your race swag to you the week of July 19.
Where do I pick up my packet? In-person participants will pick up their packets on the plaza next to the Mariners Parking Garage. Please arrive no more than 30 minutes before your designated start time. Virtual participants: you can download race bibs here!
Where do I park? Your registration includes free parking during the event at the Mariners Parking Garage, located just south of the ballpark on Edgar Martinez Drive. Print your registration confirmation and bring it with you on race day to present to the parking attendant. Additional paid parking is available at the Century Link Event Center Garage, located just north of the ballpark on Royal Brougham Way.
What about children? Only registered runners/walkers will be permitted on the course. Children who can complete a 5K on their own are more than welcome to register! We have a special youth rate for children 12 & under.

Can I bring a stroller? Yes, strollers are permitted on the course. You are also welcome to wear your baby in a carrier or pack.
Are pets allowed? No, pets are not allowed at this event. If you are participating virtually, then your pet is more than welcome to join you!
Can friends and family come to cheer me on? Due to COVID guidelines, spectators are not allowed at the ballpark this year. If you are participating virtually, then the more the merrier!

It says that in-person spots are sold out. Will you be adding more later? We do not anticipate adding more in-person spots this year, even if COVID restrictions continue to ease up. This is due to a desire to be very cautious and because we have made staffing decisions and ordered supplies based on 600 people in attendance. We hope you'll still join us by participating virtually! You can still come to the ballpark to pick up your race day swag so you get your shirt and medal in real time. You can even consider planning a course that starts and ends at T-Mobile Park and explores the surrounding area.


When does registration close?
Registration closes on Friday, July 16, 2021 at 11:59 pm US/Pacific or when we sell out.
Once online registration closes, can I still register?
No. There will be no race day registration this year.


Is there a gear/clothing check?

Yes, there will be a gear/clothing check on the plaza next to the Mariners Parking Garage.


Is there team registration?
Yes. When you register you will be given the option to create a team, join an existing team, or just register on your own.
Do I have to fundraise?
No, you are not required to fundraise to participate in this event, but we hope you will! Money raised will directly support the Washington State Coalition Against Domestic Violence. At a time when so many survivors of abuse are experiencing isolation, we hope that this event and fundraiser will provide some much needed connection and communicate to everyone experiencing abuse that you are not alone.


How do I turn in my donations?
You can either raise money online, turn in your donations at packet pick up on race day, or mail to us at: WSCADV, 1511 3rd Ave., Suite 433, Seattle, WA 98101. Thank you for your support!
If I can't make it, will you refund my registration fee?
No, registration for this event is non-refundable and non-transferable. If you cannot make it on race day, we will consider your registration a donation to the Washington State Coalition Against Domestic Violence.
Didn't answer your question?
Please email us at 5k@wscadv.org.