Fundraising Tips

Fundraising can be daunting to new riders, but as returning participants will tell you, it's much easier than you'd expect. We hear tons of stories where first-time riders were initially afraid of fundraising but then go on to surpass their goal and raise many thousands of dollars.
Without riders' fundraising, our 9 beneficiaries and those they serve don't get what they need to survive. The HCRA is the largest, most successful AIDS fundraiser in Central Texas, and YOU are the reason why! Let us help!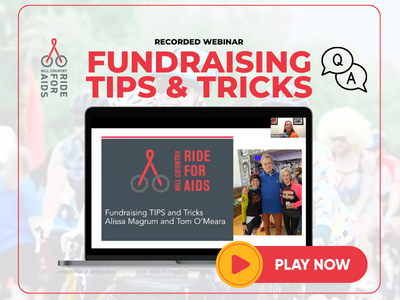 ​​​
How to Go About Fundraising
- First thing's first – set a goal. If you're new to the Ride, you have to raise a minimum of $250, but we encourage you to set your goal higher. A goal gives you and your supporters something to work towards. If you surpass it, you can raise it and watch your friends continue to help you achieve more. The average rider raises close to $1,000, and we believe that you will too!
- Set up your personal Rider Page. This is your dedicated fundraising page on our website. It's a one stop shop for soliciting online donations, entering offline cash or check donations, recruiting your friends to join the ride, and much more! Explore the tabs on the left to see all your fundraising tools. But most importantly, make this page personal – tell your story and why this cause is important to you.
- Learn to use your Fundraising Page.

On the left side of your participant page, you'll see several helpful links to help you boost your fundraising​efforts. You can join a team, create a Facebook fundraiser, invite friends to join you, ask for donations, and more!
In the Ask for Donations, Thank Donors, & Enter Cash/Checks section, there are multiple tabs - click the blue links to move from tab to tab. The Ask Your Friends and Thank Your Donors tabs allow you to send emails and texts to your friends and donors, as well as share your asks on social media. Feel free to customize these messages!!

Now you can focus your energy on connecting with friends and family
- Email. From your Ride Center page, you can send out already-crafted emails to those in your address book. You can also write your own email to make it personal – this is what people will connect to the most. Tell them why this cause is important and how they can support your goals. You'll likely have to send out multiple emails reminding folks – this is key. Follow-up and reminders are essential! Just make it sincere and fun.
- Social Media. The easiest and fastest way to see results. Simply connect your fundraising page to Facebook and other social media sites (you can find links on your fundraising page), tell friends what you're doing, and tell them how much you would appreciate their support. We are seeing HUGE leaps in fundraising by participants who connect their fundraising page to Facebook, creating a Facebook fundraiser. Some first time riders are 
- Text or Call. Now is a great time to reach out to people by phone! Texting is always a great option, but while we're all isolated, a phone call can be a much needed moment of personal connection.

*GREAT TIP: When you get a donation from anyone, post on social media thanking them. Write about how you know this person and how much you appreciate their friendship. Include a link to your Ride Center page to make it easy for anyone reading to donate also. You will be surprised at the momentum this process builds! Everyone seems to want to participate and see what you will write about them when THEY donate!
- Make it your story! Inspire your team, donors and other riders. Look at the sample emails below for ideas on composing a letter whether you are personally affected by AIDS/HIV or because you care about others who have it.
Find inspiration to share your story.
Make it personal. Donors will connect to what matters to you! 
Download Sample #1
and
Because not everyone is directly impacted by HIV/AIDS, but we care for those who are.
Download Sample #2
If neither of these ring true for you, try to focus on our Beneficiaries. They are facing significant challenges, and they rely on the funds raised by the HCRA to make ends meet. They need us now more than ever!

Other Tips:
Follow the Hill Country Ride for AIDS on social media and use the stories we post in your asks. If we post a story about one of the beneficiaries, share it with a link to your Ride Center donation page. If we post a story about the ride, share it to give friends an idea about what you're participating in. Click these links to follow the Ride's Facebook, Instagram, and Twitter accounts. For more info on how to get the most out of social media, click here.
Get strategic:
Make a list of everyone you know. As a part of that process, think about how much you could ask them to give, remembering that some are capable of much larger gifts than others.
Ask for the right amount! Do not ask someone for $50 when they can give $1,000.
Expand your circle of donors. Ask friends or relatives to circulate letters/emails and raise money on your behalf.
Ask, ask, ask! Every year after the Ride, people say "I wanted to give but no one asked!" 
Important Things to Remember
Send a second request, or a "Reminder" or "Update" to those who don't respond to your first request! Many people just need to be asked two or more times or need a friendly reminder.
Thank your donors! Even the smallest donation is huge and the best way to ensure keeping your donors happy and possibly giving more the next year is to let them know how much their donations are appreciated.
You are making a big commitment! Not everyone cycles such a challenging route through the Hill Country! You are doing something BIG to help people with HIV/AIDS.
Right before Ride Day, send out a "final request." Many people wait until the last minute to give, but need a final reminder.
Immediately after Ride Day, send a "Ride Report" to everyone you asked to donate, whether they supported you or not. Tell them how well you did on the Ride and what you achieved with your fundraising. Keep it positive and include another thank you to everyone who supported you. You may even get a few more donations, and you definitely will pave the way for next year's donations!
We Have Resources for You!
Contact us if you need suggestions, some inspiration, or ideas. We can help you customize a fundraising letter or email appeal. Get creative! You have support; we're here for you. All riders and crew can always email admin@hillcountryride.org or call the Ride office for help at (512) 371-RIDE (7433).
Please review the above tips and reach out to the Ride office for further assistance. It's our goal to help you reach yours, and we are more than happy to help in ANY way!