Take ACTION for Psoriatic Disease​
September 30, 2023 | 8:00 AM​ | Trees Atlanta
Take ACTION aims to brings the psoriatic disease community together to honor those living with psoriatic disease, connect with the community, and celebrate your accomplishments. 
The event is open to everyone from family members, friends, healthcare providers, community partners, corporate sponsors and supporters. The funds raised by this community will fund collaborative, transformational research, advocacy efforts and educational programs that help the more than 8 million people in America living with psoriasis and psoriatic arthritis. 


How Does Take ACTION Work?
1. Take ACTION by registering to Fun-raise with a purpose
2. Form a team and recruit friends, family, co-workers and neighbors to join you
3. Encourage everyone to Take ACTION for Psoriatic Disease and fundraise
Share stories and fundraise on Social Media​
Ask for support via email/text message
Plan your own "Fun"draising event
4. Join the psoriatic disease community at Take ACTION-Fest, the campaign's culmination, on September 30th at the Trees Atlanta. This festival is for the whole NPF family and will include education, food, entertainment, vendor booths, an inspiring program and more!
Fundraising Milestones
To express our gratitude for your individual fundraising efforts, we have some exciting gifts for you! Raise $75, $150, $350, or $1,000+ to receive a gift at each milestone! Learn more about our Fundraising Thank You & Recognition Gifts.


Any teams that collectively raise $1,000 or more, will be considered a "Top Team"! These teams will receive a special event experience and recognition in NPF communications. Learn more about our Top Team Recognition here.
We need YOU to be the ACTION in Take Action!


Meet our 2023 Take ACTION Honored Hero, Takieyah Mathis!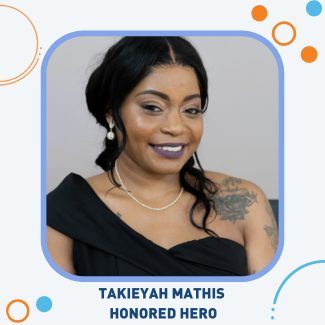 In December 2016, Takieyah Mathis was diagnosed with psoriasis during an emergency room visit. At the time, she had little understanding of the condition, despite presenting with spots all over her face, stomach, back, and legs. She was losing hair and her eyebrows were shedding dramatically.

Without health insurance, managing this unexpected health challenge was incredibly difficult. For two years, she struggled with a significant loss of confidence due to the physical changes and the judgements she experienced in both her professional and personal life. Despite receiving well-meaning advice and attempted diagnoses from peers, she recognized that medical treatment was necessary. However, she remained committed to exploring natural remedies and created homemade creams and oils for relief. 

A breakthrough came when she confided in her godmother, Rosa, who was also suffering from scalp psoriasis. Rosa offered her medicated shampoo and the steroid triamcinolone, providing some relief. As she continued to face questions about other potential health conditions, such as lupus and vitiligo, she immersed herself in extensive research about psoriasis. 

Before her diagnosis, she was a full-time model and an A/R booking agent for music artists. With the onset of her psoriasis, she felt compelled to slow down her modeling career and shift towards producing fashion shows and raising awareness about psoriasis.

She began sharing her journey on Facebook and was pleasantly surprised by the supportive response. Even after founding her own non-profit organization, she was unaware of the National Psoriasis Foundation (NPF) until the supportive community she built introduced her to it. She felt inspired by the stories shared by others worldwide, which led her to adopt a park and create a community garden where she held psoriasis walks and awareness events. 

Her path towards comprehensive medical help began with her first pregnancy. Her doctor referred her to a dermatologist and a rheumatologist, starting a year-long journey to secure the assistance she needed. With the birth of her two sons and her husband's diagnosis of eczema, she felt further motivated to contribute to her community and connect with the NPF to support and meet others with similar experiences. 

Over time, she began fundraising for the cause, attending her first event, and later training as an advocate on Capitol Hill Day. Her tireless efforts were recognized by her community when she received the humanitarian award for her county. Her ongoing work in spreading awareness and support for others battling psoriasis is fueled by the unwavering encouragement from her friends, individuals she's met through the NPF, and those in her community who reach out daily. 
Become a Top Team 
Any teams that raise $1,000 or more, will be considered a "Top Team" and receive:
1. Reserved area at event with a party kit
2. Special recognition in NPF communications. Be featured in our:
Instagram Page @NPFCommunity
Advance Magazine
Annual Report 
Learn more about our Top Team Recognition here! 


Your Impact

​