Take ACTION for Psoriatic Disease​
October 7, 2023 | 9:00 AM​ | Dallas Arboretum and Botanical Garden
Take ACTION aims to brings the psoriatic disease community together to honor those living with psoriatic disease, connect with the community, and celebrate your accomplishments. 

​

The event is open to everyone from family members, friends, healthcare providers, community partners, corporate sponsors and supporters. The funds raised by this community will fund collaborative, transformational research, advocacy efforts and educational programs that help the more than 8 million people in America living with psoriasis and psoriatic arthritis. 

How Does Take ACTION Work?
1. Take ACTION by registering to Fun-raise with a purpose
2. Form a team and recruit friends, family, co-workers and neighbors to join you
3. Encourage everyone to Take ACTION for Psoriatic Disease and fundraise
Share stories and fundraise on Social Media​
Ask for support via email/text message
Plan your own "Fun"draising event
4. Join the psoriatic disease community at Take ACTION-Fest, the campaign's culmination, on October 7th at the Dallas Arboretum and Botanical Garden. This festival is for the whole NPF family and will include education, food, entertainment, vendor booths, and an inspiring program. Plus, stay after and enjoy Autumn at the Arboretum with the nationally-acclaimed Pumpkin Village!
Fundraising Milestones
To express our gratitude for your individual fundraising efforts, we have some exciting gifts for you! Raise $75, $150, $350, or $1,000+ to receive a gift at each milestone! Learn more about our Fundraising Thank You & Recognition Gifts.


Any teams that collectively raise $1,000 or more, will be considered a "Top Team"! These teams will receive a special event experience and recognition in NPF communications. Learn more about our Top Team Recognition here.
We need YOU to be the ACTION in Take Action!


Meet our 2023 Take ACTION Honored Hero, Kendra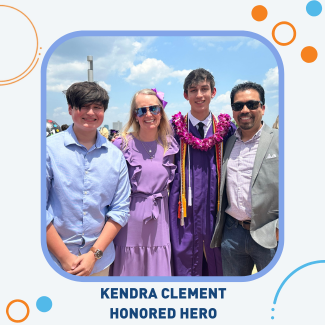 "I volunteer because I want to shine a spotlight on our patients and their families! Their stories show such strength and perseverance. I want everyone who lives with psoriatic disease to know that there is an entire community waiting to embrace and encourage them as we continue to work towards a cure together!

I love the NPF community because of how supportive and active they are. As the wife of a patient with an autoimmune that takes the control away from him, it's important to show up and help carry the load when things are a bit heavy for your loved one. The NPF truly feels like a big family at the events and my family loves getting to be a part of that support!

The new Take ACTION program allows EVERYONE who wants to be supportive of the community a way to tangibly show up! We hope the event turns into a celebration for our community to raise awareness as well as money! This truly is a beautiful way for us all to honor our patients and their families. During the pandemic when the events went virtual and allowed for us to participate each weekend you could really feel the national family coming together and being one big group of support. Take ACTION gets us back to that place of no limit love and support!"

Your Impact