Take ACTION for Psoriatic Disease​
September 30, 2023 | 7:30 AM​ | Houston Zoo
Take ACTION aims to brings the psoriatic disease community together to honor those living with psoriatic disease, connect with the community, and celebrate your accomplishments. 
The event is open to everyone from family members, friends, healthcare providers, community partners, corporate sponsors and supporters. The funds raised by this community will fund collaborative, transformational research, advocacy efforts and educational programs that help the more than 8 million people in America living with psoriasis and psoriatic arthritis. 

How Does Take ACTION Work?
1. Take ACTION by registering to Fun-raise with a purpose
2. Form a team and recruit friends, family, co-workers and neighbors to join you
3. Encourage everyone to Take ACTION for Psoriatic Disease and fundraise
Share stories and fundraise on Social Media​
Ask for support via email/text message
Plan your own "Fun"draising event
4. Join the psoriatic disease community at Take ACTION-Fest, the campaign's culmination, on September 30th at the Houston Zoo. This festival is for the whole NPF family and will include education, food, entertainment, vendor booths, and an inspiring program.  Plus, stay after and enjoy the zoo with your family, including the Galapagos Islands, the first major exhibit of its kind in the world!
Fundraising Milestones
To express our gratitude for your individual fundraising efforts, we have some exciting gifts for you! Raise $75, $150, $350, or $1,000+ to receive a gift at each milestone! Learn more about our Fundraising Thank You & Recognition Gifts.


Any teams that collectively raise $1,000 or more, will be considered a "Top Team"! These teams will receive a special event experience and recognition in NPF communications. Learn more about our Top Team Recognition here.
We need YOU to be the ACTION in Take Action!


Meet our 2023 Houston Take ACTION Honored Hero, Kaitlyn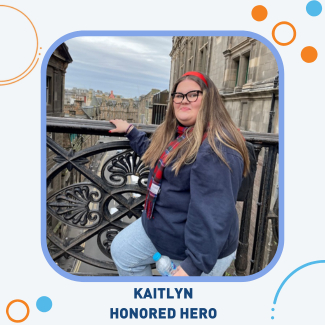 My name is Kaitlyn, and I am 17 years old.

I became obsessed with my disease in 9th grade because I was covered from head to toe in patches of dry, cracked skin. With the stress of a global pandemic and teaching myself pre-AP Biology, I also had the stress of scratching my itchy arms and legs and planning to stay up all night if my psoriatic arthritis decided to attack. After months of pain, I finally decided my dermatologist needed to get involved.

I have been on that same biologic for almost 2 years. At 17, I can finally say that no matter how bad my flare ups get, I am proud to have psoriatic disease and being able to share my story to help benefit other girls like me who cover up their patches to embrace their disease. I am forever grateful for NPF teaching me how to feel comfortable about my disease and tell others my journey with psoriasis.

Your Impact