Take ACTION for Psoriatic Disease​
September 24, 2023 | 10:00 AM​ | Bronx Zoo, 2300 Southern Blvd, Lot C, Bronx, NY 10460
Take ACTION aims to brings the psoriatic disease community together to honor those living with psoriatic disease, connect with the community, and celebrate your accomplishments. 
The event is open to everyone from family members, friends, healthcare providers, community partners, corporate sponsors and supporters. The funds raised by this community will fund collaborative, transformational research, advocacy efforts and educational programs that help the more than 8 million people in America living with psoriasis and psoriatic arthritis. 

How Does Take ACTION Work?
1. Take ACTION by registering to Fun-raise with a purpose
2. Form a team and recruit friends, family, co-workers and neighbors to join you
3. Encourage everyone to Take ACTION for Psoriatic Disease and fundraise
Share stories and fundraise on Social Media​
Ask for support via email/text message
Plan your own "Fun"draising event
4. Join the psoriatic disease community at Take ACTION-Fest, the campaign's culmination, on September 24th at the Bronx Zoo, 2300 Southern Blvd, Lot C, Bronx, NY 10460. This festival is for the whole NPF family and registration will include admission into the zoo, education, food, entertainment, vendor booths, an inspiring program and more!
Fundraising Milestones
To express our gratitude for your individual fundraising efforts, we have some exciting gifts for you! Raise $75, $150, $350, or $1,000+ to receive a gift at each milestone! Learn more about our Fundraising Thank You & Recognition Gifts.


Any teams that collectively raise $1,000 or more, will be considered a "Top Team"! These teams will receive a special event experience and recognition in NPF communications. Learn more about our Top Team Recognition here.
We need YOU to be the ACTION in Take Action!


Meet our 2023 Take ACTION Honored Heroes, Carmen Martinez and Giselle Singer!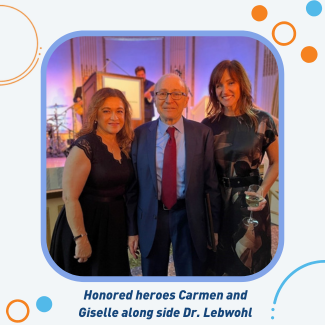 Carmen Martinez, Take ACTION-New York Honored Hero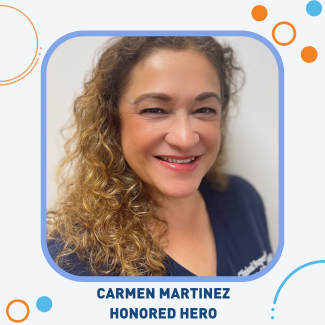 I'm Carmen Martinez, a clinical supervisor and LPN specializing in Dermatology at Mount Sinai Hospital with 37 years of experience. My passion lies in caring for patients, particularly those with psoriasis. Seeing their progress and being a part of their journey brings me immense joy and fulfillment. Throughout my years of experience, I have witnessed the remarkable evolution of psoriasis treatments, from traditional topicals to the introduction of phototherapy, oral medications, and now the revolutionary advancements in biologics. 
Outside of work, I enjoy Spanish music, beach life, and cooking. I take pride in my dedication to dermatology and strive to provide exceptional care to improve patient outcomes. 
Giselle Singer, Take ACTION-New York Honored Hero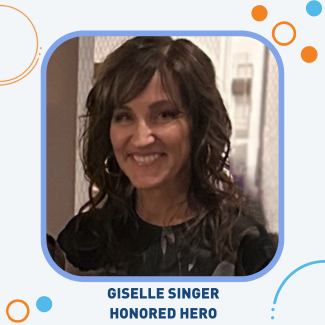 I started out as a coordinator back in 1990, at which time I first learned about Psoriasis. At that time, the available treatment was limited to topicals, phototherapy or methotrexate. It wasn't long before we were recruiting for a study testing a novel type of topical… Vitamin D.  Needless to say, from there, we were involved in studies for a plethora of new treatment options. It is exciting to now see advertisements on TV, promoting the drugs we have studied and that have dramatically changed the lives of so many.  
Being able to work closely with patients and follow their progress on a monthly basis during a trial allowed me to build so many relationships and a sense of trust with them, that have lasted decades, beyond the time frame of their study. For this, I'm thankful and glad I was able to, and continue to make a difference in so many lives. 
Your Impact
​​

​