WE HAVE PRIZES!! 
For anyone who reaches the $600 and $1,200 thresholds, we'll have prizes for you! You will receive an email in mid-July congratulating you and letting you know which prizes you have earned. You will also be given the choice to "opt-out" of receiving these prizes and donating the cost back to Hospicare. These prizes will be dispersed at packet pick up in the week leading up to August 12. All donations made before Friday, August 11th at 5pm will be counted towards prizes. 
$600 Incentive Prize - Win a pair of glasses with the 20th artwork.
$1,200 Incentive Prize -   Win a fleece vest (with pockets) embroidered with the Women Swimmin' logo.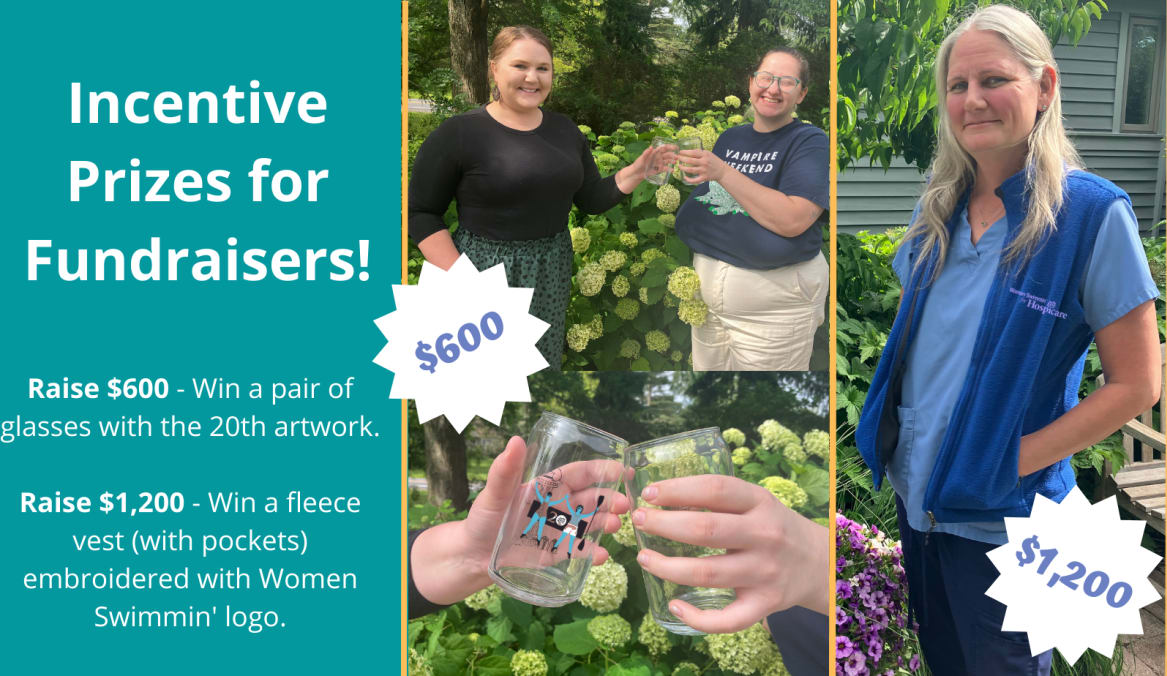 SOCIAL MEDIA & RECRUITMENT PRIZES - How to increase your social capital points. Facebook fiend? Twitter titan? Insta-enthusiast? You're in the right place! 
A quick note before we get into the fun stuff:  start by linking your social media accounts to your personal page! Scoot your cursor over to your profile photo on the top right, click "Edit Profile," then scroll to the bottom to reach the "Social Accounts" section.
Here's how to turn your social media prowess into points and climb the leader board:

- Earn 30 points for three friends you recruit
- Earn 10 points for telling your story
- Earn 10 points for each photo you add
- Earn 10 points every time you tweet, or when someone retweets or favorites one of your tweets (IMPORTANT: you can either tweet from Twitter or from your page using the hashtag #womenswimminforhospicare)
- Earn 10 points every time you make a Facebook post through your personal page (IMPORTANT: don't start the post on Facebook! Instead, use the Red "Invite your Friends" button - look for it on your main page or the main site banner, or check out the "Ask your Friends" section of your fundraising page)
- Earn 10 points every time you make an Instagram post (IMPORTANT: post using your Instagram app - and don't forget the hashtag #womenswimminforhospicare)
- Earn 20 points for donating to another participant
- Earn 20 points for submitting a picture of your pet during All-American Pet Photo Day -- before midnight on July 16!
- Earn 1 point for every dollar you raise
The more points you earn, the better chance you have of winning some awesome prizes! Track your progress on the leader boards.