Aiden's battle began at age 3 when his mother, Gena, noticed swelling in his neck. She took him to his pediatrician, Richard A. Boada, M.D., now at Norton Children's Hospital Medical Associates – Jeffersonville. Gena expected that Aiden had tonsillitis or something that could be treated with antibiotics.
Dr. Boada sent the results of Aiden's examination and blood tests to Norton Children's Hospital immediately. "Something just was not right," Gena said. "It didn't take Dr. Boada long before he gave me the possibility that what Aiden had was most likely cancer, a mother's worst fear for her child."
Numerous tests were performed at Norton Children's Hospital, which caused the Johnsons a lot of anxiety. Less than 24 hours after Aiden's visit to the pediatrician, the team at Norton Children's Hospital confirmed he had high-risk acute lymphoblastic leukemia.
"I remember vividly the doctor coming in and closing the door to deliver the news that Aiden most definitely had cancer," Gena said. "It was horrifying, but the only thing we could do was be cooperative, understand the treatment options and trust the doctors and the team caring for Aiden."
The seriousness of Aiden's condition required that he be placed in the "Just for Kids" Critical Care Center at Norton Children's Hospital. His white blood cell count was 232,000, and the only way to reduce the cancer cells in his blood was to perform apheresis, a procedure that involves separating out one blood component and returning the rest of the blood to the body. This procedure requires inserting a catheter into a blood vessel in the groin, but Aiden's blood was too thick for that method to work. A Broviac catheter was placed in his chest instead.
"Before apheresis was performed, and the way the cancer cells were multiplying, Aiden was 24 hours away from death," Gena said.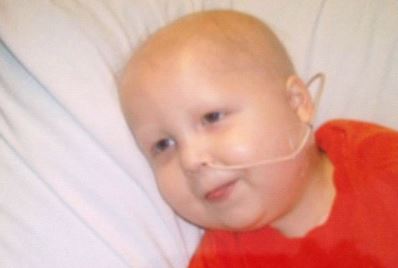 ​

Aiden has had his fair share of medical issues. He was born with dextrocardia, in which the heart is pointed toward the right side of the chest instead of the left. By the time he was 6 months old, Aiden also was diagnosed with Wolff-Parkinson-White syndrome, a condition that causes rapid heartbeat because of an extra electrical pathway in the heart.
"Aiden has been treated for his heart issues for years and continues to do well," said his father, Jason. "But for Gena and me, as his parents, it's difficult to see him go through all of the medical procedures and treatments he's experienced in 11 years since birth."
Aiden received chemotherapy for three years. In June 2010, on his sixth birthday, he completed his last round. He was cancer-free.
Two years later, Aiden showed some bruising after a week at Camp Quality Kentuckiana, an organization that supports children fighting cancer and their families.
"When Aiden returned from camp, I noticed he came back fairly bruised, which wasn't unusual for him," Gena said. "But my gut instinct was that something was not right again, so I performed a physical check and noticed swelling, or knots, in Aiden's groin."
Gena's suspicions were confirmed after a visit to the oncology clinic — the cancer was back.
"One thing Jason and I have learned is to never look weak in front of Aiden," Gena said. "I straightened my shoulders, lifted my chin and took Aiden to Norton Children's Hospital."
Aiden's blood count this time was 60,000, which was still considered high-risk lymphoblastic leukemia. Aiden's care team placed Aiden back on treatment. He was ready to conquer the cancer a second time.
Now, at age 18 and after an additional three years of chemotherapy and 16 radiation treatments, Aiden is in remission. He has regular checkups to ensure the cancer is no longer active.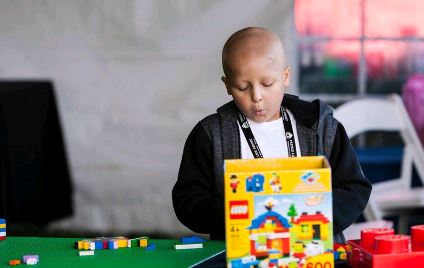 In March 2013, he and his family launched Aiden's Legacy to give back to the Addison Jo Blair Cancer Care Center at Norton Children's Hospital and collect and distribute Legos to kids fighting cancer.
"When we launched Aiden's Legacy, we realized the money would be a secondary priority," Gena said. "The education and awareness of pediatric cancer was first and foremost. The more people who know about it, the more people can be involved and there is potential for more money to be raised."
The Johnsons committed to raising $250,000 for Norton Children's Hospital through the Norton Children's Hospital Foundation and – to date – have raised more than $400,000.
They have raised the funds through individual supporters and community partnerships, including Texas Roadhouse restaurants. Through the funds raised, Aiden's Legacy has been able to purchase needed medical equipment and facility upgrades for the Addison Jo Blair Cancer Care Unit at Norton Children's Hospital. They host an annual holiday party for 500+ pediatric cancer families as well as hosting and supporting other outings and outings throughout the year. They also regularly gift Lego sets to pediatric cancer patients to help kids be kids while they face such a difficult journey.
"It has been a blessing in disguise the impact that has been made in such a short period of time," Gena said. "Aiden is very ambitious and is determined to meet our end goal."