Frequency Asked Questions
COVID Notice
Everyone's safety is important to us! We are following CDC guidelines, are kindly asking all to practice social distancing, and those who have not been vaccinated to wear their mask. Furthermore, we won't have changing PODs, so prepare for taking your kids home wet and a bit muddy.
How does registration work?
We're very excited that this new platform allows you to register more than one child at a time! To introduce you to this new process, we've provided some screenshots that will walk you through what to expect.
Basically, there are two things to remember. First, after you've entered the first child's information under 'Registration Options' and accept the terms of the waiver, the next screen will contain an overview of that first child's registration information. Beneath that will be a green 'Add a Registration' button. Second, each child is required to have a unique email address. So, for the additional children being registered, be prepared to have a unique email address for each one.
I need to register more children and it won't let me.
Once you have completed a registration, you'll discover that the 'Register Today' button becomes an 'Invite Friends' button. So, if you need to register additional children, there are two ways to go about this. The first and best option is to log out of your account and then the 'Register Today' button will be available. The second option is to visit the link below to add an 'Additional Child(ren) Registration'.
Keep in mind that the second option will not automatically apply your wave selection to the selected wave. Rather, a committee member will manually move the child into the respective wave. Therefore, the wave you select will be to identify to which wave we need to add that child. However, should that wave already be full, we may need to move the child into a different wave. Be sure to let us know in the registration if that will be a problem or not. We don't want to separate kids from those with which they had planned to run.
How to give each child a unique email address without using separate email addresses.
This Peer-To-Peer Fundraising platform will create a custom participant page for each registered child and in order for that to work properly, each child is required to have a unique email address. However, you may not have a unique address available for each of your kids, or don't want to use different email addresses. So, we have a work around for you and we've proven that it works.
The trick is as simple as placing both a plus sign and then the name of your child positioned after your email prefix and before the @ sign , as demonstrated in the screenshot below.
Ex: YourEmailAddress+ChildName@email.com
This trick was learned by watching a TikToc video where this method is suggested when providing your email to sign-up for various services, with the service name following the plus sign. Then, when you get junk mail you'll know who had sold your email address.

How do I change the name of the child registered.
When you begin registering your child(ren), it's habit to enter your name as the first name, however in this case, it was supposed to be your child's name.

So, now your child's participant page displays your name. It's an easy fix. Simply complete this Google Form and we'll get that fixed for you. It will change both the name and the name in the participant page URL.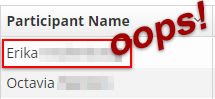 Is fundraising required?
We'd sure prefer it, especially since that's the main purpose of the event. However, you can also just pay the entry fee and get dirty. Remember, we're trying to make a HUGE donation to St. Jude, so any and all donations will be gratefully accepted. We're asking everyone to bring any fundraising dollars with them on event day with checks made payable to St. Jude. In fact, 100% of the entry fees and donations raised by the dirty kids go directly to St Jude. So, we'll be underwriting our expenses and supplies with separate donations and underwriters.
Can I bring my pet to the park?
No. Unfortunately, pets are not allowed at the park. This is a park district policy.
What should my kids wear?
Kids are required to wear closed-toe shoes – no sandals or bare feet, please.
The shoes and clothing will most likely get dirty beyond cleaning, so wear something you're comfortable disposing of. They must wear a shirt, shorts or pants, and closed-toe shoes. Socks are also recommended. Finally, we suggest wearing a swimsuit under their running clothes for ease of cleaning
What time does the event start?
The wave times will run from 9:00 am-1:00 pm. Those who have registered in advance online will be notified via email the week prior to the event providing details for when to arrive and what time their age wave will run.
Those who have not registered on-line can arrive at 11:00 am for same day registration. It is highly recommended that you register online several weeks prior to the event.
How many course obstacles are there?
There will be 9-11 total obstacles. The final determination will depend on our awesome sponsorship opportunities and time allotment. Also, there will be several obstacles for the 200-yard dash. You can learn more about all of them on the The Kids Muddy Madness Obstacles page.
I'm nervous about the obstacle difficulty and safety in the woods.
Safety is our primary concern- fun and fundraising come second! We have kids too! Additionally:
While there will be some hilly areas and a bit of water, there is nothing too risky.
The obstacles for the 1-mile course will have volunteers stationed at all times during the race to help the kids safely conquer them.
The path in the wood is 8′ wide and well graded.
We will spray the perimeter of the path for poison ivy the week of the race.
We advise rinsing off shortly after your child finishes the race.
We will allow a parent to run with any child that may not be quite ready to run the 1-mile independently; parents are allowed to accompany the child at no additional charge. On that note, we ask that if you see any child struggling along the course that you help them, too.
Can I see my child throughout the race?
For the 2-6-year-olds, absolutely! All kids 2-6 years of age will run the 200-yard dash.
Kids ages 7-17 will run the 1-mile course. Part of the 1-mile course is down a trail thru the woods and out of the parents' sight. Rest assured, however, because we'll have plenty of volunteers along the way to make sure all the kids are doing well.
Can adults participate?
Well….. no, not really; this is just a kid run. However, if you hang around to the end and submit a small donation to St. Jude, parents can try out the mud pit (non-competitively, of course). In fact, we'll let just about anyone try it out if you sign a waiver and make a donation to St. Jude!
Will there be food available?
Yes!! There will be hot grilled pork chops, brats, and hot dogs available for purchase. Support St. Jude by eating lunch! You can learn more about the food on our home page.
My child decided not to run after we arrived!
That's okay! We do not require ANY child to run the course if they're not fully comfortable. This is intended as a fun day to raise money for St. Jude. So, no worries if they change their mind! They will still receive their t-shirt and other goodies. All fundraised dollars will go to St. Jude and registration fees will not be refunded.
How can my child get clean afterwards?
There will be several water/shower/hose stations set up to hose off the kids. The water will not be heated and will get them mostly clean.
You'll want to bring a change of clothes and a towel for the ride home.
How will we know who won the fundraising prize?
The winner of the fundraising prize will be contacted after the final tally has been completed and posted on the website! Good luck to everyone!