How to Register
Signing Up is Easy!
1.    Click the "Get Involved" Drop down then "Register to Ride" 
2.    Choose the best method for you to register (Email, Facebook, Google, or Twitter)
3.    Select whether you would like to participate as an individual or join/start a team
4.    Enter your information and answer any questions along the way
5.    Add an Additional Registration for children under 13. We recommend your spouse, friends, family or coworkers register separately so they have their own fundraising page and contact information.
6.    Provide Payment Information.
7.    Click Finish, you did it! Now, let's Set Up Your Page!
How to Manage Your Page
For a full help guide please follow this link to the OneCause Fundraiser Guide
Once you register, you will be taken to your page dashboard to set up your fundraising page and will get a short tour of the settings area. Add as much or as little as you would like including photos, messages, and blurbs! The area to the left in the picture below will guide you through this process and check things off as you go!
If you ever need to get back to this area, click your photo/avatar at the top right of the page.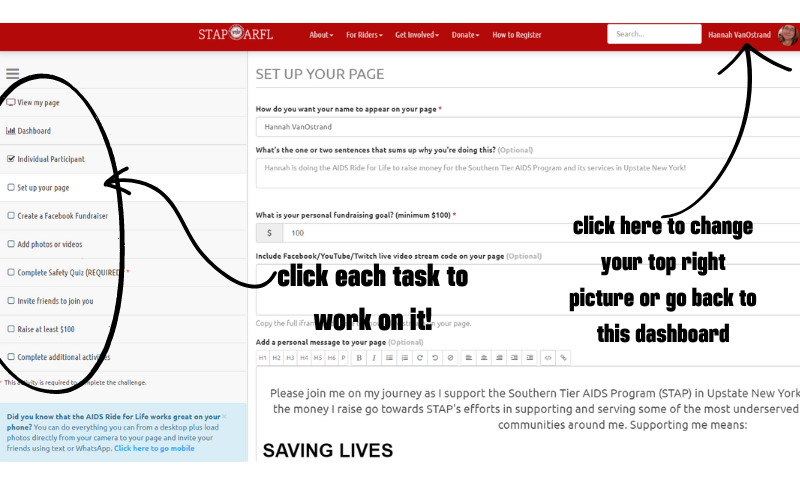 ​Activity Options for all Riders
We have a bunch of extra activities that you can take part in once you're registered (almost all of these activities are completely optional), see the full list below!
·         Upload a Photo – Earn some points and upload photos of past Rides, our current Ride, Training, and other Cycling or AIDS Ride related fun!
·         Upload a Video – Show your fundraising spirit to anyone who views your page!
·         Tell a Story about past Rides – Share some Ride experiences with us and earn some points!
·         Host a Fundraising Event – Set up an event to share with friends and family to fundraise! You can ask for donations for participation or sell things that people would be interested in! Examples: Bake Sale, Cookout, Movie Viewing, Auction, and more!
·         Safety Quiz – One of our only required activities is now set within the fundraising platform so you can take it with ease and get reminders about it throughout the build up to event day.
·         Record Fitness Activity – Record your training as you prepare for Ride Day!
Connect to Strava (Record a Fitness Activty) 
1.     Step 1: Go to Manage My Page
2.     Step 2: Select Complete Activities
3.     Step 3: Under Complete Activities and click on Track Miles
4.     Step 4: Click "Link My Strava Account" and enter your Strava login information to link your account and start tracking your miles!
Some other helpful resources:
About the Southern Tier AIDS Program
AIDS Ride for Life Group Page on Facebook
Southern Tier AIDS Program on Facebook
Official Social Media Hashtags:
#aidsrideforlife
Twitter: @stapinc
Instagram: https://www.instagram.com/southerntieraidsprogram/
Milestone List
Earn them on your or your team's page!