About Chestnut Hill College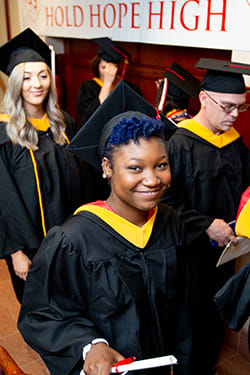 Established in 1924, Chestnut Hill College (CHC) was founded by the Sisters of Saint Joseph as a Catholic, four-year, liberal arts institution for women, and became co-educational in 2003. Sister Carol Jean Vale, Ph.D., the longest serving college president in the Greater Philadelphia Area, has boldly led CHC through several transformational times in her 27 years at the helm.
Today, the College's undergraduate population is a microcosm of the global society, comprised of roughly 60 percent women and 50 percent racial and ethnic minorities. Last Fall, CHC welcomed one of its largest undergraduate classes in more than a decade, with students coming to campus from 11 states, including Virginia, California, and Texas — as well as 14 countries, including Argentina, Tanzania, Korea, and New Zealand.
Providing a values-based education and creating educational opportunities for students from all backgrounds is in the College's DNA. And while CHC may be small in size, with just over 1,700 students, we have a global footprint. Our students graduate ready to lead successful careers and live meaning lives, and often times, the outcome is a catalyst for positive change in society.
To ensure every student has the opportunity to pursue a high-quality education, last academic year CHC provided more than $17 million in financial assistance to students from undergraduate, graduate, and accelerated adult degree programs. CHC also provides a variety of wrap-around services to all students including counseling, tutoring, financial literary programs, a food pantry, career closet, mentoring, and more.
The College's Campus Ministry program brings the educational experience full circle with its focus on the growth and development of the whole person in relationship to God, self, and others. Through Campus Ministry, the College provides students a groundwork to discover who they are and who they're becoming through service, spirituality, and community building.
There are more 1,700 unique and amazing reasons to support the Hold Hope High Scholarship Challenge. We hope you will join us in supporting an incredible student body that needs your help, now more than ever, to make their dreams of a CHC education come to fruition.