Your support means more than ever.   
Here are just a few of the happy endings you made possible this year!
​Wrigley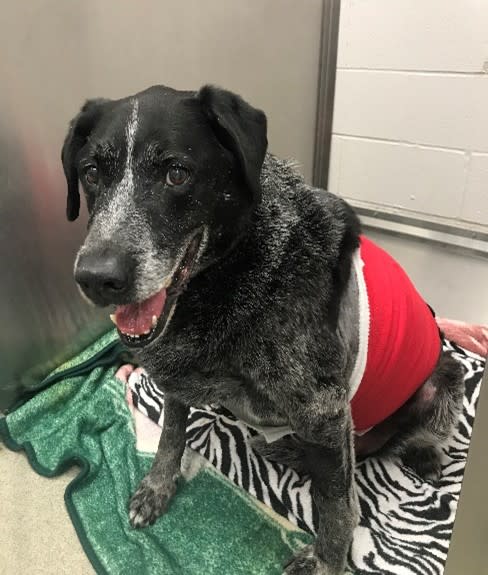 This story begins in 2009 when Wrigley, a then 1-year-old Australian Cattle/ Blue Tick mix dog, weighing 59 pounds, came to the Nebraska Humane Society (NHS) as a stray. He was adopted within a month.  He came back to NHS in 2020 as a stray, once again, and was reclaimed by his owner.  Then, in late 2020, Wrigley was confiscated during an eviction and again returned to NHS. This time, Wrigley was 13 years-old, 111 pounds AND had a very large tumor on his abdomen. 
After staying with an NHS foster family to lose some weight, Wrigley underwent surgery at NHS to excise the tumor, which was a whopping 6.1 pounds!  This was a very extensive surgery, with an involved resection and drain installed. Wrigley stayed at NHS for a few days to ensure his pain was managed and he was healing properly.  He then returned to foster care. This sweet, old gentleman recuperated with his doting foster family.  When cleared for adoption, he found his forever home with his foster parent's sister!   

​Bella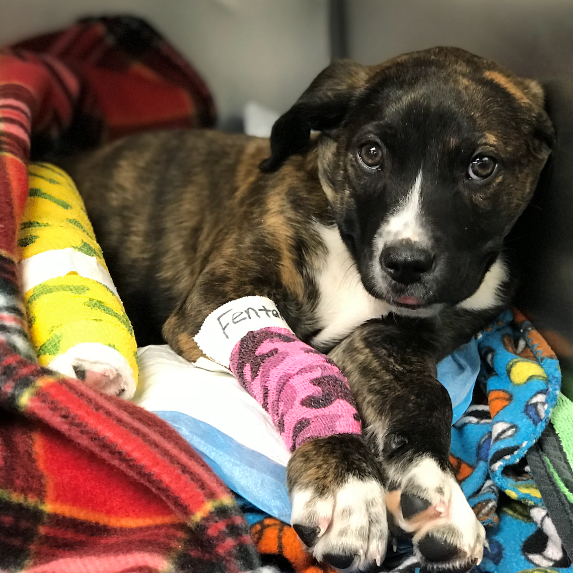 Bella, a 4-month-old Boxer puppy mix, came to the Nebraska Humane Society (NHS) badly injured and in pain.  She was not bearing weight on her right rear leg.  After taking x-rays, NHS veterinarians diagnosed a closed fracture of the distal right femur and consulted with a specialist.  NHS arranged to have Bella treated by an Omaha orthopedic veterinarian.  Bella had surgery to repair the fracture.  She recovered in foster care and received physical therapy to ensure optimal range of motion, crucial for this youngster. Bella continues her recovery and therapy in her adoptive forever home, now as Ruby!
​Eileen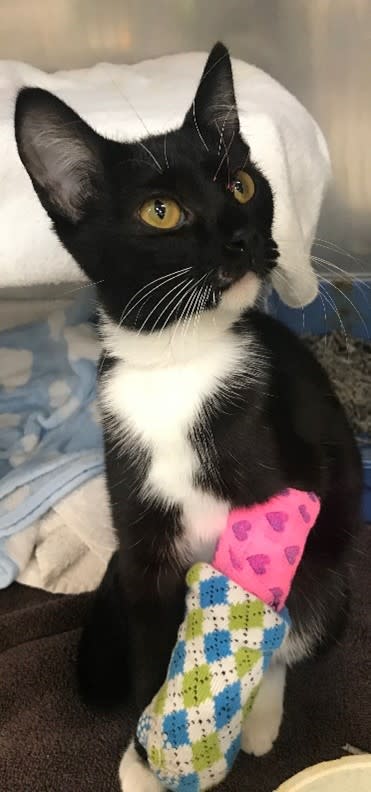 An injured black cat was brought to the Nebraska Humane Society (NHS) by a Good Samaritan.  This kitty was in pain, with a non-weight bearing front leg, facial wounds and traumatic abdominal hernia.  A radiograph revealed multiple fractures in her left front limb, and casting to help the leg heal did not work. Our veterinarians determined amputation was necessary, and as a young cat, she would be able to adapt to life as a tripod and live a pain-free, full life.  
NHS veterinarians repaired the hernia and amputated her leg.  This sweet cat, (estimated to be 1-year-old and only 5.5. pounds) would heal with the care of NHS staff and a loving foster family.  Even with all she was going through, kitty ate well, purred and sought social interaction.  This vibrant cat, now named Eileen (!), has been adopted!
​Falkor
​
Recently a Good Samaritan brought an injured stray cat to the Nebraska Humane Society (NHS).  This white cat (estimated at 8-years-old) was in tough shape with bite wounds to his tail and face. NHS veterinarians performed two surgeries to debride and repair the infected injuries (using therahoney to aid the healing process).  Throughout his medical treatments, Falkor won over NHS staff with his affection and big personality.  An NHS foster parent ensured Falkor received his medicines and lots of love while recuperating.   Once medically cleared, this gentle cat was adopted to a quiet loving home, where he could enjoy life and be free from pain.