Here are some baking champs who have made a
big impact for Pet Partners!
Evan, top baker!
Evan broke all previous fundraising records in 2018 by raising over $6,000 to support Pet Partners! He chose to fundraise for Pet Partners for his Bar Mitzvah project:
"I decided to participate in Treats & Sweets because baking has always been a big passion of mine. My cousin who has cancer is comforted by the love of dogs when he isn't feeling well so I wanted to honor him by raising money for Pet Partners and bake homemade dog treats to donate to my local hospital which has a therapy animal program supported by Pet Partners."
- Evan
Elizabeth, a handler hero!
Elizabeth, therapy animal handler and evaluator, found new inspiration to fundraise in 2018:
"I made a Treats & Sweets page this year. In years past I just did bake sales in the community. I had no idea the power of email marketing. I emailed all of my contacts and have had a flood of people donating. My goal was $1,000. I sent the email donation request two weeks ago. I am now at over $3,000 in donations! I had no idea it was this easy to raise money for Pet Partners!"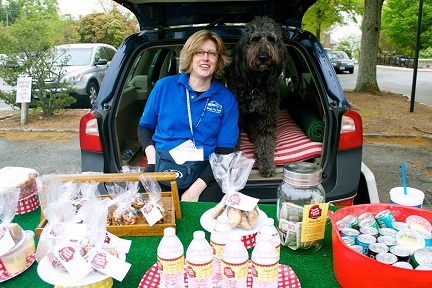 Kim & Clarke, tops dogs in 2015!
As the nation's top Treats & Sweets Day fundraisers for 2015, Clarke and Kim are pretty much Pet Partners royalty! Together they raised over $2,200 to support therapy animal teams. Kim set up bake sales at her local farmer's market, invited friends and family to make online donations, and even partnered up with a local pet boutique to raise awareness and funds. Clarke's favorite pupcakes proved to be a huge hit with customers.
Kim and Clarke have volunteered together at their local hospital. Clarke is one loving doodle! He enjoys visiting with patients and their families in their hometown in Virginia, and is a favorite among the hospital staff at VCU Medical Center.
Are you doing something fun in your community or have a recipe you want to share? Please send it treatsandsweetsday@petpartners.org so we can add you to our Baker Updates or possibly to the website!