​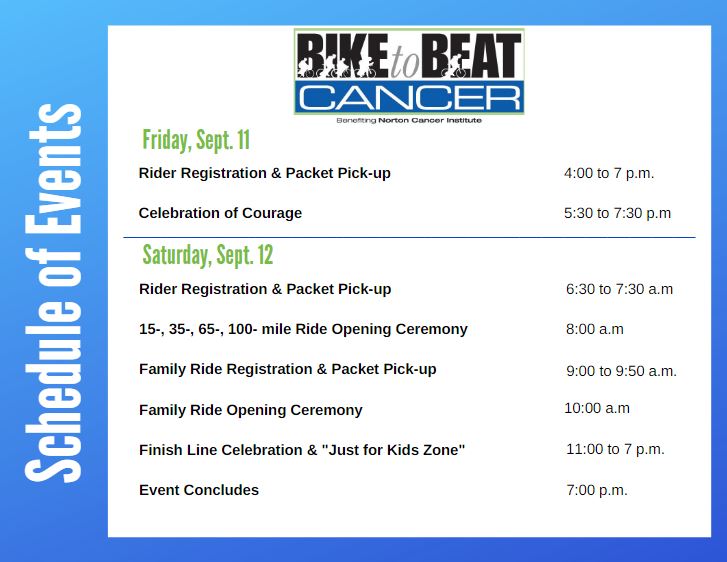 ​
---
 Day of Event FAQ
When will I receive my Bike to Beat Cancer jersey or T-shirt?
You may pick up your event packet and jersey or T-shirt the evening before the Bike to Beat Cancer or the morning of the event.  

What do I need to bring on the day of the Bike to Beat Cancer?
On event day, bring your bike, a form of identification to carry on you as you ride, any special snacks that you prefer and a water bottle that you can refill along your ride.

What food and drink will be provided for me? 
The Bike to Beat Cancer will provide all of your meals, snacks and drinks. You can enjoy breakfast before you start your ride. If you are riding 65 or 100 miles, lunch will be provided for you along the route. Everyone in attendance is invited to enjoy the Finish Line Meal.
Snacks and drinks will be provided at Pit Stops along the route. Typical snacks include pretzels, fruit (such as bananas and apples), trail mix and granola bars. Drinks include water and power drinks.
What time should I arrive?
Arrive at 6:30 a.m. to pick up your packet and jersey or T-shirt if you did not do so the evening before the event. Breakfast will be available beginning at 6:30 a.m. The opening ceremony for the 15-, 35-, 65- and 100-mile riders will begin at 8 a.m. The Family Ride opening ceremony will begin at 10:00 a.m. We recommend you allow at least 45 minutes to arrive, park, enjoy breakfast and stretch before the ride.  Please check out our schedule of events above to learn more about the day of the event.

Where should I park?
Parking is available in surface lots around the Norton Brownsboro Hospital campus. See the parking map for exact locations.

My family and friends want to cheer for me. Where can they go along the route?
We love to have your family and friends join us to help cheer you on! They are welcome to cheer at our Start/Finish Line located at Norton Cancer Institute Brownsboro. They may also go to our official Cheer Stations along the route. Download the RaceJoy mobile app for Live Rider Tracking.

Should I have someone follow me along the route to ensure my safety?
The Bike to Beat Cancer goes through every measure to ensure you feel safe and secure on your ride. Our safety and sweep teams will go with riders along the route. These teams are in place to assist riders along the route and to transport riders who are unable to finish the route and need to return to Norton Cancer Institute Brownsboro.