About our 2019 Honoree: Lana Dobson
​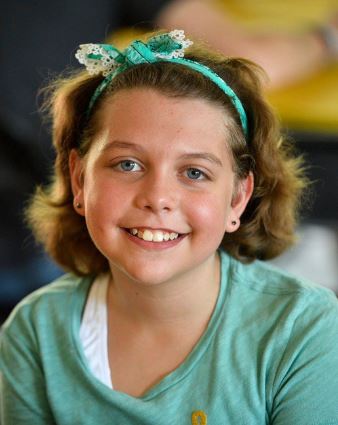 By Brian Dobson, Lana's dad
Lana was a competitive gymnast from the time she was three years old. In 2015, after becoming an Indiana State Beam Championship, she moved to a new gym to focus on her goal of going to the Junior Olympics and pursuing her dream of competing for UCLA. While she was performing a warm-up pass for her floor routine, she landed, and when she did she began to limp favoring her right leg. For Lana to do this we knew something was wrong. She had competed for an entire year with two fractured heels and another six months with a broken bone in her hand, but never complained or asked to go to the doctor.
We took her to her orthopedic doctor - being a gymnast this is almost a requirement - and they could not find anything wrong so she was diagnosed with an Achilles Tendon Strain. After a couple months of rehab and rest, it was not getting better. All during this time she was having severe headaches that the doctors chalked up to migraines and treated as such. She actually competed in one meet in December but was in extreme pain and still came in first place on beam through it all.
She had another appointment to check her leg in January and that's when they realized something was extremely wrong. On January 6, 2016, we were sent to U of L Pediatric Cancer and Blood Disorders to have blood work done. She went thru an extensive exam and had blood work done while we were there. At the end of the blood work we were sent to have a bone marrow biopsy done. It was then that the doctors brought us in to the room and told us that Lana had B-Cell ALL (Acute Lymphocytic Leukemia). Leukemia....Cancer... this completely devastated us like nothing you can ever imagine.
Lana was taken straight to Norton Children's Hospital and was admitted to begin her treatments that next day. To make matters worse January 6 is also our son Riley's birthday. We had to tell him on his birthday that his sister had cancer and was going to have to be in the hospital fighting for her life. The news devastated him and when he was finally able to see Lana her first comment was I'm sorry I ruined your birthday and his was please don't die. We watched as our two kids who at times could not be in the same room together hugged and cried and comforted each other.
After more tests, it was determined that more than 40 percent of Lana's blood was cancer, and her right leg was full of it. The headaches were caused from her blood being so low. B-Cell ALL does not have a stage like other cancers, however, with Lana's age she is classified as high risk and her life expectancy was 50 - 85%.
Lana had surgery to have a port inserted in her chest where she got all of her chemo treatments, blood transfusion, IV's and medications. She has had more than two dozen blood and platelet transfusions to help replenish the blood that has been destroyed by the cancer. She has also had more than 20 spinal taps to remove spinal fluids and also get chemo injected directly into her spinal cord. During her treatments, it was determined that she had osteonecrosis in both of her legs from below her knees to her ankles. It was found that the steroids that she had to take for her treatments were the cause of the osteonecrosis.
During her treatments she began playing the ukulele and guitar as a way to cope with everything she has gone through. Since her diagnosis, she has not been able to go back to gymnastics, and we don't think that she will ever be able to. Her path has now changed but her direction has not. She still wants to attend UCLA but now her path is leading her to the medical field and she hopes to one day become an oncology nurse or a nurse practitioner.