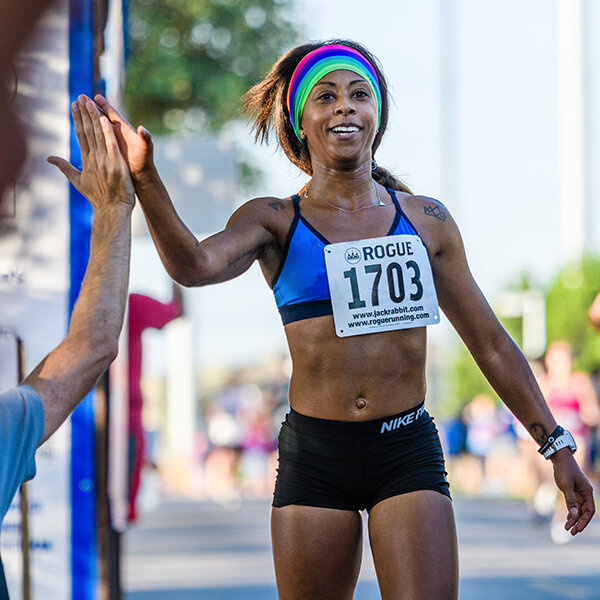 Baylor Scott & White Health Virtual Run
Register soon for early bird pricing!
$40 through August 11​
$45 from August 12–September 30
Run your race(s) anytime during "Super September" and submit your times, distances and days! Virtual run registrants receive a "Texas Superheroes" BOCO Technical Trucker Hat (with kid sizes for 12 and under) for participating.
Prizes will be given for the following:
Trophies for top 4 overall 5K runners
Medals for top 3 fastest 5K runners in each age/gender category
Kids Only (12 & under): Most Days Run! Medals for the top 3 kids who practice their running skills the most days in September! Fundraising amounts will be used as tiebreakers!
Trophy for most improved 5K runner: Submit up to 4 run times throughout Super September, and we'll find out who shaved the most time off of their run!
Trophy for best superhero-themed GPS art: Run any distance and draw a superhero or super symbol (like the Superman logo or Thor's hammer) using Strava or your favorite running app and submit your running art to be judged!
Trophy for the "Long Distance Superhero": Most miles run cumulatively throughout the month
You must run a 5k and submit a time with photo/screenshot proof of the distance and time during the month of September to qualify for the Austin Distance Challenge.
Running times, miles and race course art must be uploaded on your profile sometime in the month of September to qualify for prizes.
All virtual run registrants will also receive a personal fundraising page and are invited to raise money for children who've been abused or neglected. You can even win prizes!
What is the Austin Distance Challenge?
The Austin Distance Challenge is a series of the most prestigious local running events starting in the fall and leading up to the Austin Marathon & Half Marathon in February. The races increase in distance as the series progresses, making the series a natural component of many Austin runners' training. In its 23rd year, the Distance Challenge is hosted by the Austin Runners Club (a 45 year old local nonprofit). Participants sign up for the series, registering for either the Full or Half Track to compete against personal goals and for awards for Overall, Masters and Age Groups. Participants can register on the Austin Distance Challenge website for all 6 races, and then register separately for each race. You must participate in the CASA Superhero Run 5K Virtual Race if you're thinking about doing the rest of the challenge! The full 2020-2021 race series includes: CASA Superhero Run 5K, New! Daisy 10K, Run for the Water 10-Miler, Decker Challenge Half Marathon, 3M Half Marathon, and the Austin Marathon & Half Marathon.
Virtual Run Sponsored By Baylor Scott & White Health