DAY OF EVENT​
AIDS WALK Charlotte 2022, celebrating 26 years, will be held in-person on Saturday, May 7 at the Wells Fargo Atrium & Plaza, in Uptown Charlotte. AIDS WALK Charlotte is the largest HIV fundraising walk in the Carolinas and has raised $3.1 million, since 1997, to support people living with HIV and those at risk. Every dollar raised stays in Charlotte to provide funds for services and programs RAIN provides to our community.
​AIDS WALK Charlotte is a family affair (kids and pets welcomed) and open to all who want to participate. The walk is roughly two miles long and takes the average person around 30 minutes to complete.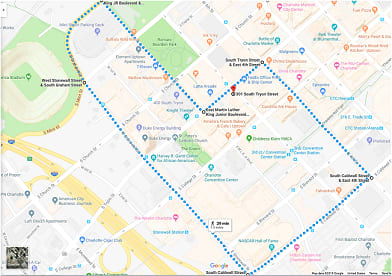 Click on the image above to see bigger map.

LOCATION
Wells Fargo Atrium & Plaza​ 301 S. Tryon Street, Charlotte, NC 28202​
PARKING

On street parking, where legal is usually free on the weekends. There are other surrounding parking garages including The Green Garage and Two Wells Fargo Center Garage that are available for parking.
Two Wells Fargo Center Garage 301 S. Tryon Street (entrance is on Martin Luther King Jr. Blvd)


Green Garage 435 S. Tryon Street (entrance on S. Tryon Street and S. College Street)
2022 EMCEES​

AIDS WALK Charlotte is thrilled to have Matt Harris and Ramona Holloway from Mix 107.9 and Lauren McDonald from WCCB Charlotte as our 2022 Emcees. They plan to bring the energy and fun on Saturday, May 7 and will be ready to kick start our in-person return!

DAY OF EXPERIENCES
Honor Beads: Stop by our booth to grab your honor beads. Honor your loved ones and yourself while you walk. Various color honor beads acknowledge your personal connection to HIV and AIDS, and help you to identify others who may have the same connection.
360 Photo Booth: Taking the photo booth experience to the NEXT LEVEL. QC360 offers captivating slow motion and reverse effects and will capture the fun from every angle.
Sunset Slush Classic Italian Ice: Be sure to cool off before, during, or after your walk with Sunset Slush Italian Ice where 100% of the sales will be donated back to AIDS WALK Charlotte.
No Label Candle Company: Don't forget to stop by the No Label Candle Company booth and grab your Unapologetically U candle which will be debuted at AIDS WALK Charlotte 2022 and was created especially for RAIN (smell approved by RAIN staff). This candle has scents of palo santo, citrus and bergamot - you will become obsessed! Even better, a portion of the sale from this candle will be donated back to RAIN.

DJ Little Betty: DJ Little Betty will be playing all your favorites to get your energy up and ready for an amazing morning of celebrations and activism! DJ Little Betty is one of the Carolina's most sough after female DJs and has quickly established herself as one of the hottest DJs on the Queen City.

ALLturnatives: ALLturnatives is center stage where intersectionality meets opportunity for many of our disenfranchised children who may not otherwise recognize their rightful place as future leaders. They are a nonprofit organization with a targeted strategy to reach low income families with at-risk youth and young adults to provide an inclusive cultural and performing arts space to develop positive social and life skills.

MASCOT APPEARANCES

AIDS WALK Charlotte 2022 will have three special guests joining us the morning of the walk. Chubby with the Charlotte Checkers, Sir Purr from the Carolina Panthers and Homer the Dragon, with the Charlotte Knights will be onsite to get us pumped and ready to walk. They will also be there to give out hugs, snap pictures and have some fun before we hit the streets of Uptown Charlotte.

SCHEDULE
9:00 AM Registration & Check-In Opens

Drop off collected cash and checks

Make additional donations to your page

Pick up t-shirt and incentives

Walk through the community gallery

​10:30 AM Morning Program & Awards

Welcome Message from RAIN's CEO

2022 Message of Empowerment

Fundraising Awards

​11:00 AM Walk Begins
Walk the streets of Uptown Charlotte for HIV awareness
AWARDS & RECOGNITION
During the morning celebration we will be recognizing the top fundraising teams and individuals. A great way to keep track and stay on top of where you or your team rank is on our leader board page.

Top Individual Fundraiser

Top Corporate Fundraising Team

Top Congregational Fundraising Team

Top Community Fundraising Team

Glam Squad Award (Best Team Spirit)