DAY OF EVENT​
On Saturday, May 6, AIDS WALK Charlotte will celebrate 27 years of bringing our community to fight HIV stigma and raise funds for RAIN.

AIDS WALK Charlotte is the largest HIV fundraising walk in the Carolinas and since 1997, has raised over $3.3 million to support people living with HIV and those at risk. Every dollar raised stays in Charlotte to provide funds for services and programs RAIN provides to our community.
AIDS WALK Charlotte is a family affair (your two and four legged kids are welcomed) and open to all who want to participate. The walk is roughly two miles long and takes the average person around 30 minutes to complete.
2023 Walk Route is Being Confirming Right Now!

LOCATION
Wells Fargo Atrium & Plaza​ 301 S. Tryon Street, Charlotte, NC 28202​
PARKING

On street parking, where legal is usually free on the weekends. There are other surrounding parking garages including The Green Garage and Two Wells Fargo Center Garage that are available for parking.
Two Wells Fargo Center Garage 301 S. Tryon Street (entrance is on Martin Luther King Jr. Blvd)


Green Garage 435 S. Tryon Street (entrance on S. Tryon Street and S. College Street)
2023 EMCEES​

Matt Harris & Ramona Holloway from the Matt & Ramona Show, on Mix 107.9.

DAY OF EXPERIENCES
HONOR BEADS: Stop by our booth to grab your honor beads. Honor your loved ones and yourself while you walk. Various color honor beads acknowledge your personal connection to HIV and AIDS, and help you to identify others who may have the same connection.
PATCH STATION: Stop by our NEW patch station to have your milestone patches ironed onto your AIDS WALK Charlotte 2023 t-shirt. A fun and simple way to showcase your fundraising successes!

More Coming Soon!

MASCOT APPEARANCES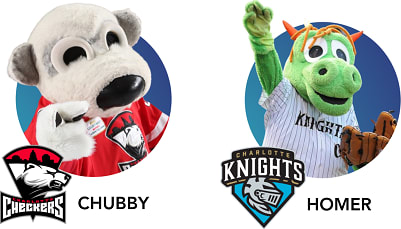 SCHEDULE
9:00 AM Registration & Check-In Opens

Drop off collected cash and checks

Make additional donations to your page

Pick up t-shirt and incentives

Walk through the community gallery

​10:30 AM Morning Program & Awards

Welcome Message from RAIN's CEO

2023 Message of Empowerment

Fundraising Awards

​11:00 AM Walk Begins
Walk the streets of Uptown Charlotte for HIV awareness
AWARDS & RECOGNITION
During the morning celebration we will be recognizing the top fundraising teams and individuals. A great way to keep track and stay on top of where you or your team rank is on our leader board page.

Top Individual Fundraiser

Top Corporate Fundraising Team

Top Congregational Fundraising Team

Top Community Fundraising Team

Glam Squad Award (Best Team Spirit)