About the 2023 Avonmore Berry Farm - Run the Farm (for PF)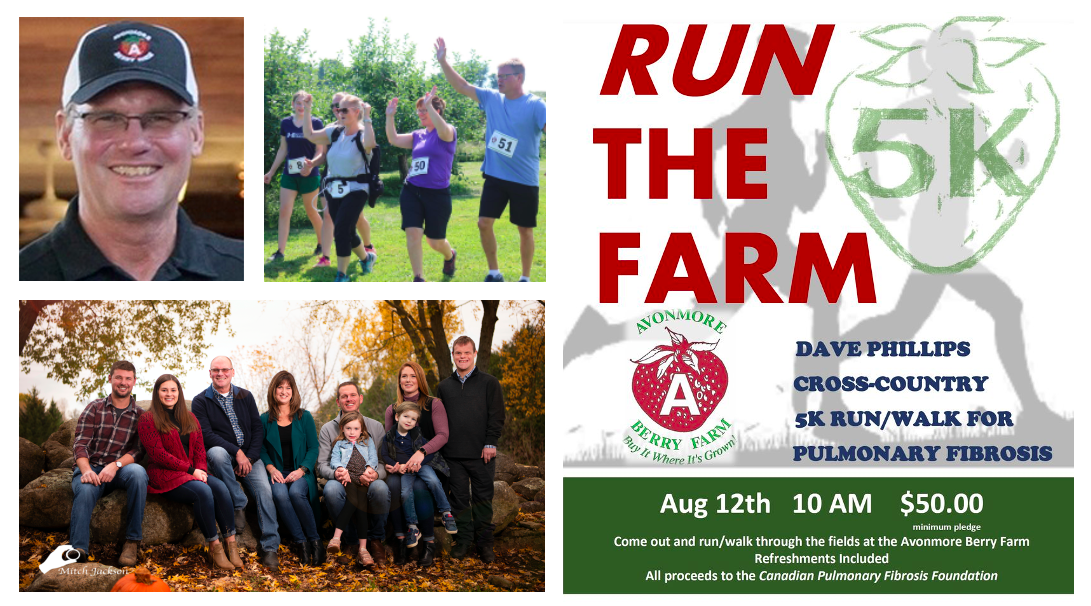 ​
The Phillips family have been deeply affected by pulmonary fibrosis (PF), with the passing of David Andrew Phillips on June 4, 2021, aged 56 years old. David was the owner of the Avonmore Berry Farm, in Avonmore, Ontario. In his memory, his family created a 5km walk/run through the fields of the farm to raise awareness for the disease and funds for research. Join the Run the Farm event on August 12th. 
How to Participate
AUGUST 12th, AVONMORE, ONTARIO
The Phillips family invites you to gather with your community on August 12th to walk/run for PF or cheer on those who are walking/running. To join this event click REGISTER button and select IN-PERSON WALKER. A minimum pledge of $50 is required to join this event.
Avonmore Berry Farm
16365 4 Rd, Avonmore, ON K0C 1C0
Registration requires a minimum pledge of $50
Registration closes on August 10th at 11:59 pm EST
Check-in opens @ 9:30 am EST
Run starts @ 10:00 am EST
Refreshments are included
REGISTER FOR THE AVONMORE BERRY FARM WALK/RUN FOR PF 


SHARE PHOTOS OF YOUR WALKS
Help us spread the word about pulmonary fibrosis by posting frequent photos of you walking:
On your team or individual page
On social media using the hashtag #hopebreatheshere
On the CPFF mobile app
Support the Avonmore Berry Farm - Run the Farm (for PF) Event and CPFF
Simply click the DONATE NOW button on the side of this page to pledge Run the Farm participants in support of pulmonary fibrosis.
Click REGISTER button to walk/run in-person on August 12th.
Meet the Phillips Family