About the 2023 Clarke Walk for PF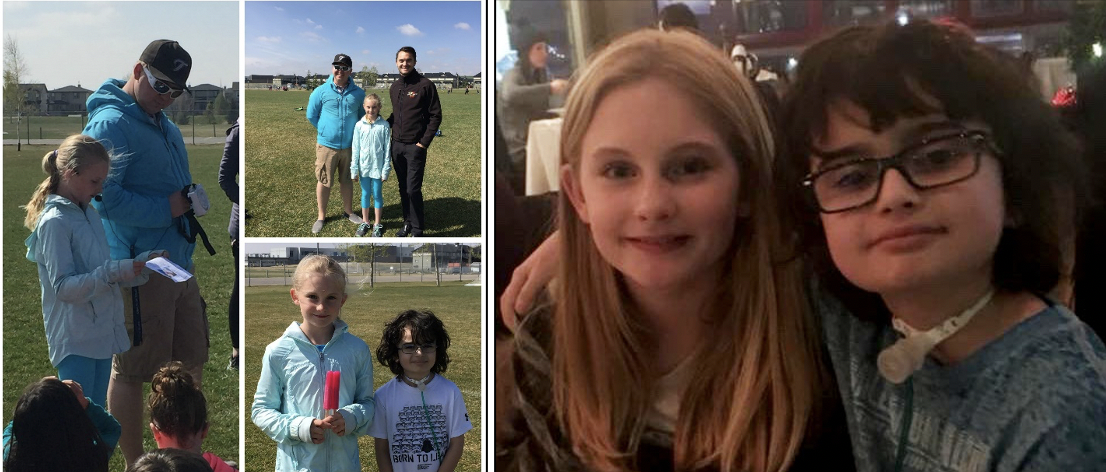 Abbie and her family have been deeply affected by pulmonary fibrosis (PF). She created a walk 7 years ago to raise awareness for the disease. Join the Clarke Community Walk for this annual in-person walk for PF on September 9th. You may also choose to walk virtually throughout September in support of the Clarke Walk for PF.
How to Participate
IN-PERSON WALK - SEPTEMBER 9, CALGARY, ALBERTA
The Clarke family invites you to gather with your community on September 9th to walk for PF or cheer on those who are walking, and enjoy a bbq afterwards. To join this event click REGISTER button and select IN-PERSON WALKER. 
Edworthy Park Picnic Site #1
5050 Spruce Dr SW, Calgary, AB T3C 3B2, Canada
Registration is free
Check-in opens @ 10:30 am MST
Speeches start at 11:30 am MST
Walk starts @ 12:00 pm MST
Free BBQ starts @ 12:30 pm MST
Oxygen will be provided free of charge by the Clarke Walk's sponsor, Respiratory Homecare Solutions, for all those who need it when they are participating at this event.

VIRTUAL WALKS - VIRTUALLY THROUGHOUT SEPTEMBER
Help Abbie and her family raise awareness for pulmonary fibrosis throughout the whole month of September by virtually walking in your own neighbourhood and beyond on your own time. To join this event click REGISTER button and select VIRTUAL WALKER. 
REGISTER FOR THE CLARKE WALK FOR PF 


LOG YOUR KMS 
Whether you are walking in person, virtually or a combination of both, log your kilometres on this platform and help the CPFF community collectively walk across Canada (6,818 kms) for PF. Record your kms walked, rolled or run each day (or as often as get out). 
Hover over your profile image in the right hand corner of this platform
Select MANAGE MY PAGE from the dropdown
Select RECORD YOUR KILOMETERS from the navigation on the left hand side of the page
Record and save your fitness activity


SHARE PHOTOS OF YOUR WALKS
Help us spread the word about pulmonary fibrosis by posting frequent photos of you walking:
On your team or individual page
On social media using the hashtag #hopebreatheshere
On the CPFF mobile app
Prizes for Participants 
.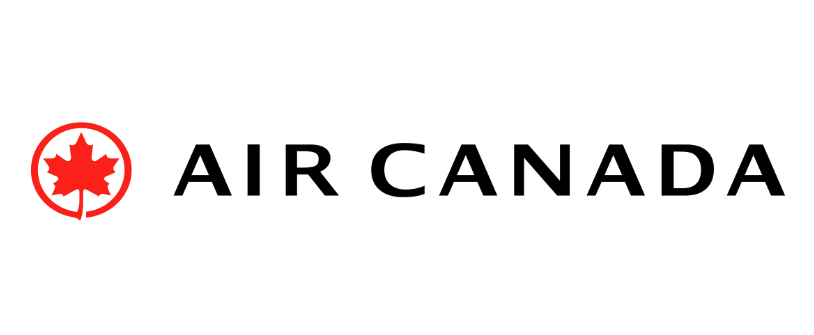 Randomly drawn for in-person walk participants: 
12 prizes including gift cards, knife set, photo art (see above), paintings, backpack cooler and ukulele. 
All prizes are donations from businesses to family and friends.
Randomly drawn for Clarke Community Walk donors and registrants: 
2 prizes - $300 Air Canada gift card and yeti cooler
To be drawn after the Walk is over.
Support the Clarke Walk and CPFF
Simply click the DONATE NOW button on the side of this page to pledge Clarke Walk participants in support of pulmonary fibrosis.
Click REGISTER button to walk in-person on September 10th and/or virtually on your own as often as you'd like during the month of September.
2023 Clarke Walk Sponsors
Meet Abbie Clarke and Her Family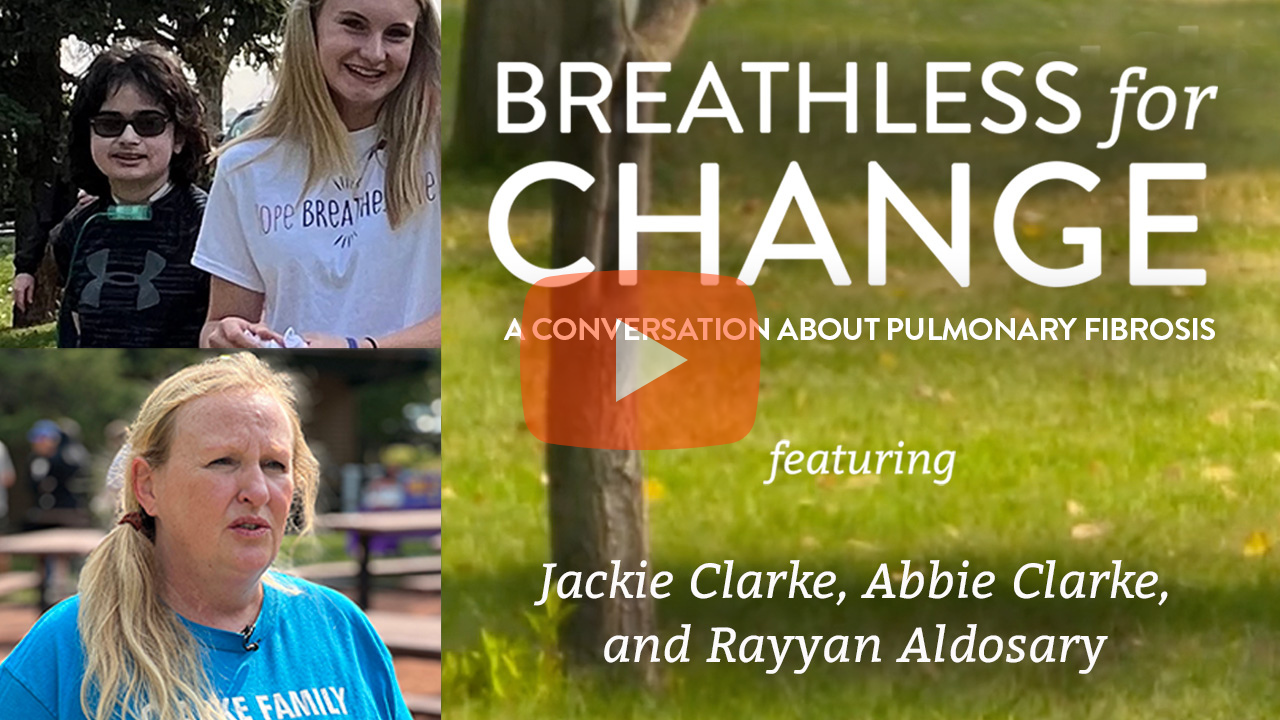 ​In 2015 as a Grade 3 student Abbie Clarke's teacher challenged his students to think about what each one of them could do to make the world a better place.  Abbie felt that her world would be a better place if there was a cure for pulmonary fibrosis (PF).  One day she gathered her courage and stood up in front of her class and told her story.  It was a story about a little-known disease called pulmonary fibrosis and how this disease had affected her and her family with the loss of her dear grandfather, aunt and cousin as well as several family members struggling with the disease, including her 10 year old cousin Rayyan.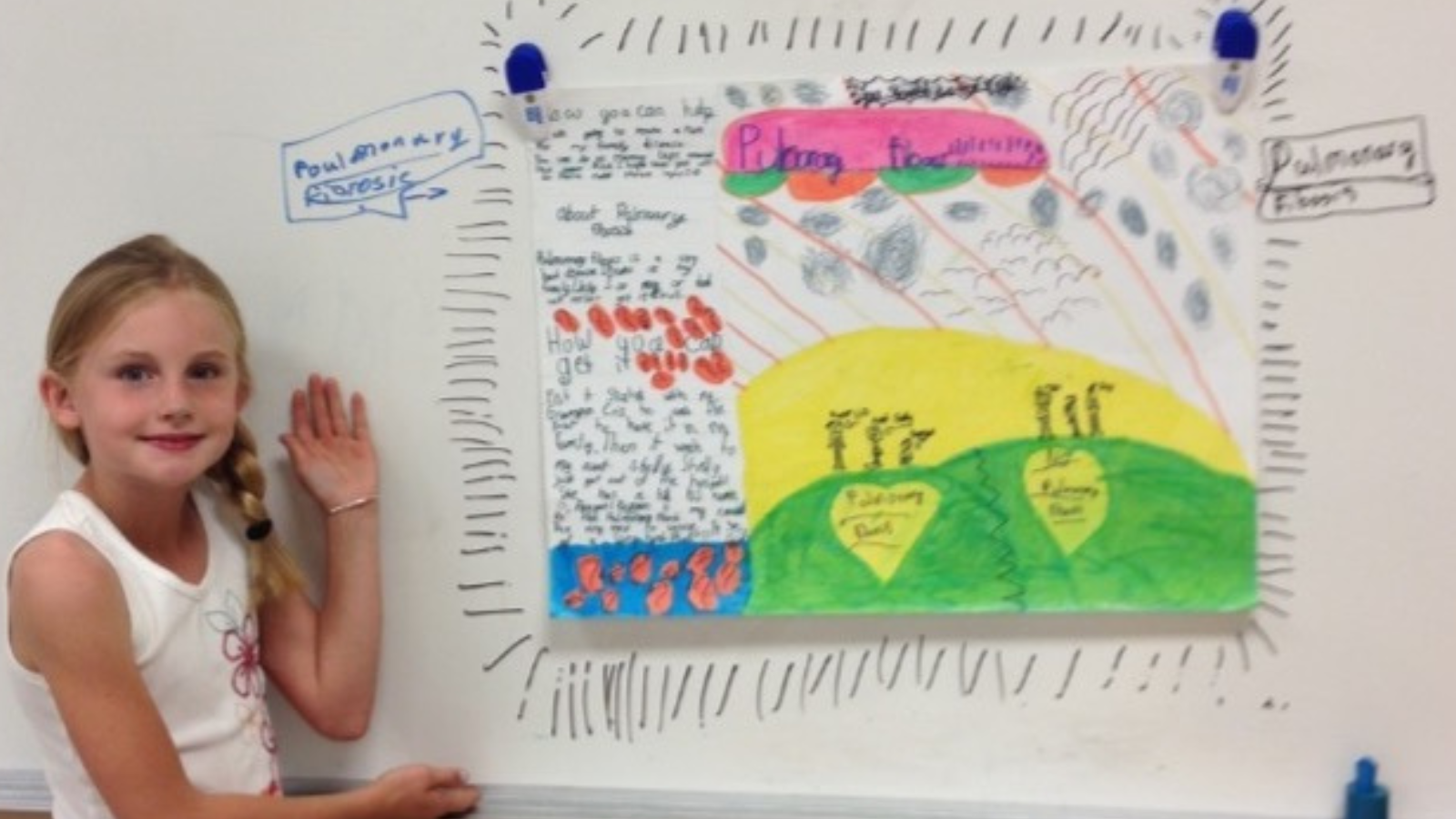 Her story did not end there.... 
No longer was it just homework. Abbie wanted her story to come alive. She wanted people to know more about this disease. She wanted people to do research and find a cure for this disease. With courage and determination, at the tender age of 8 years old, Abbie set out to make a difference. Abbie is an avid runner, so she used her love of running and organized a school run, Abbie's Run…..a symbol of hope, community and determination. Her goal was to raise awareness amongst her school friends and their families about pulmonary fibrosis. It was a great success but that was not enough for Abbie. She now wanted her community involved in this worthy cause. With her parents help, she contacted the organizer for the Mayor's Run in Airdrie and the first Clarke Family Walk for PF was born. Their goal was to raise funds for research as well to educate the public on this fatal disease and its impact on families. That year she garnered support from family and friend and raised $6,422. The walk has continued and is now in its 4th year and has raised over $20,000.
After 3 years of hosting the walk with the Airdrie Mayor's Run, the family decided to move the walk to Edworthy Park in Calgary on September 15, 2019 to grow the event.  September 15th, the morning of the Clarke Walk, was beautiful, clear and unseasonably warm for the 325 attendees who gathered in Edworthy Park. The organizers had created a festive atmosphere in the park with tents and displays for the guests to visit and pick up information and items of interest from the event sponsors and vendors.
As the excitement grew for the race to begin, an even greater buzz began as Mayor Nenshi arrived to join in the festivities. CPFF's Kirk Morrison welcomed all and offered our heartfelt gratitude to the event sponsors and participants who were instrumental in raising $44,874.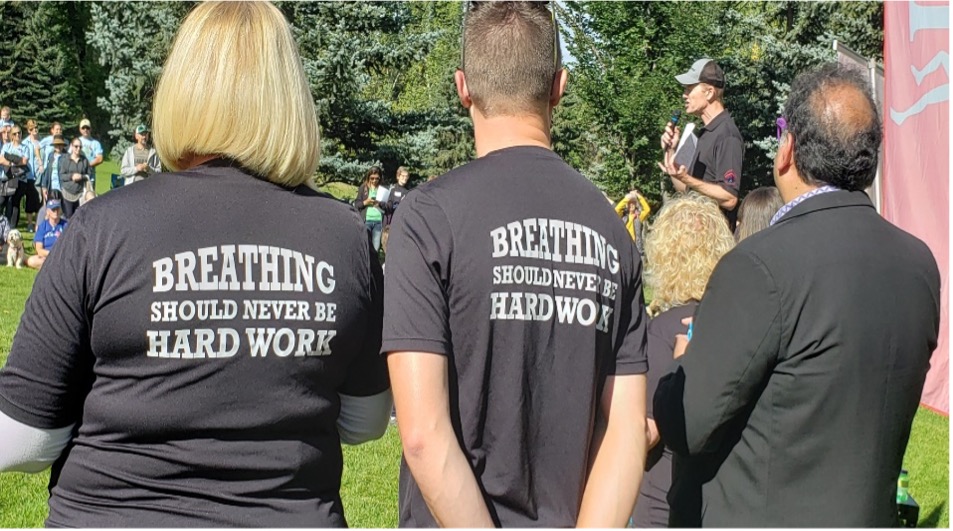 Mayor Nenshi addressed the crowd and thanked Abbie and her team for their great accomplishment. With support of family and the oxygen supply company on hand, the Mayor announced the start and a myriad of participants were underway, some walking, some rolling in wheelchairs, family joining in pushing strollers and all with big smiles and having a wonderful time in the realization that they were participating in something great! Once the walk was done, the afternoon continued and it was all fun with a BBQ picnic and great refreshment prepared by volunteers and revelling in a job well done.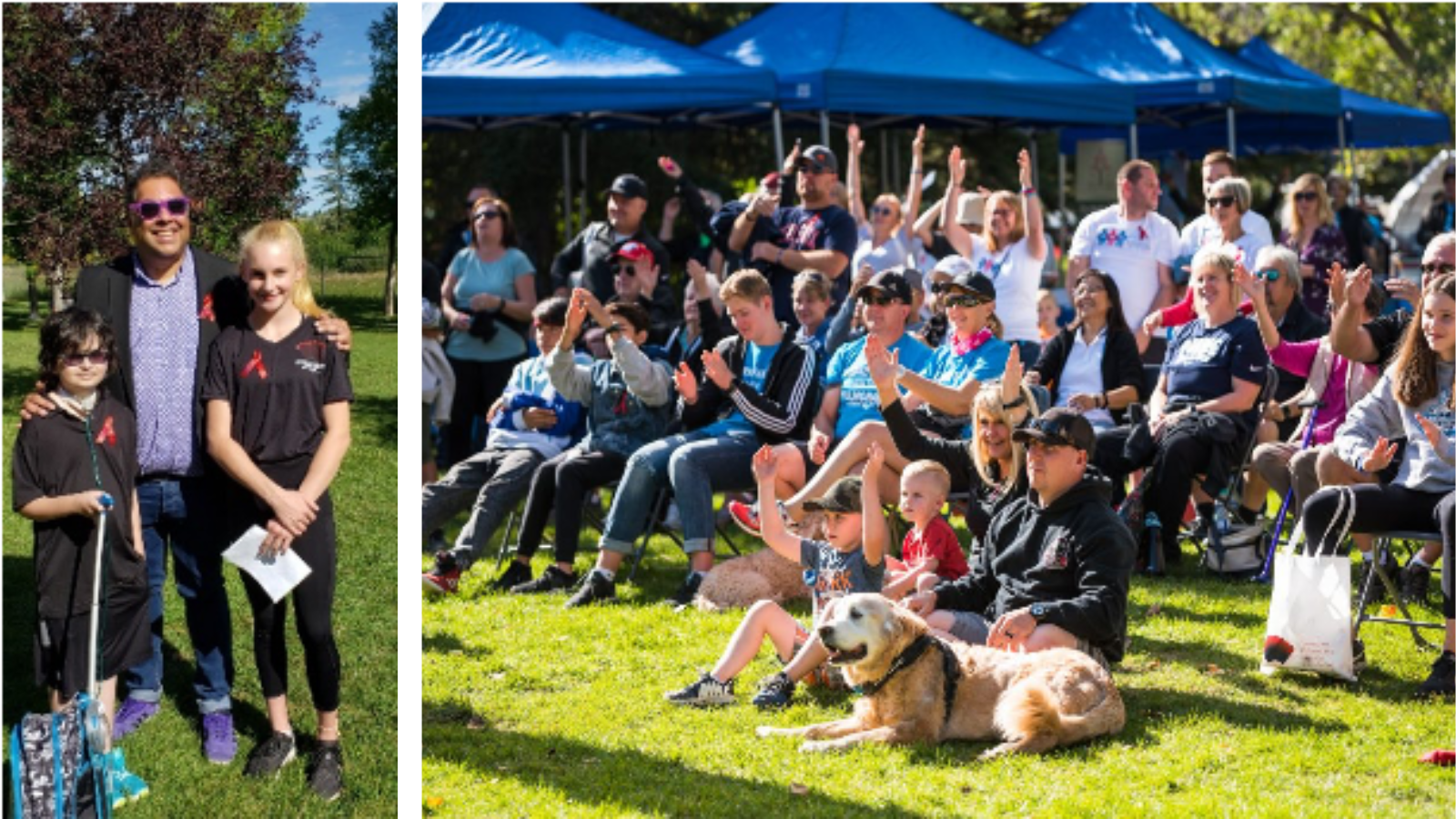 While the Walk was over that day, PF awareness month continued and on September 18th, landmarks in Calgary and other cities across Canada lit up in solidarity. The Calgary Tower was impressive bathed in signature red and blue, reinforcing Calgary's support of this very significant cause.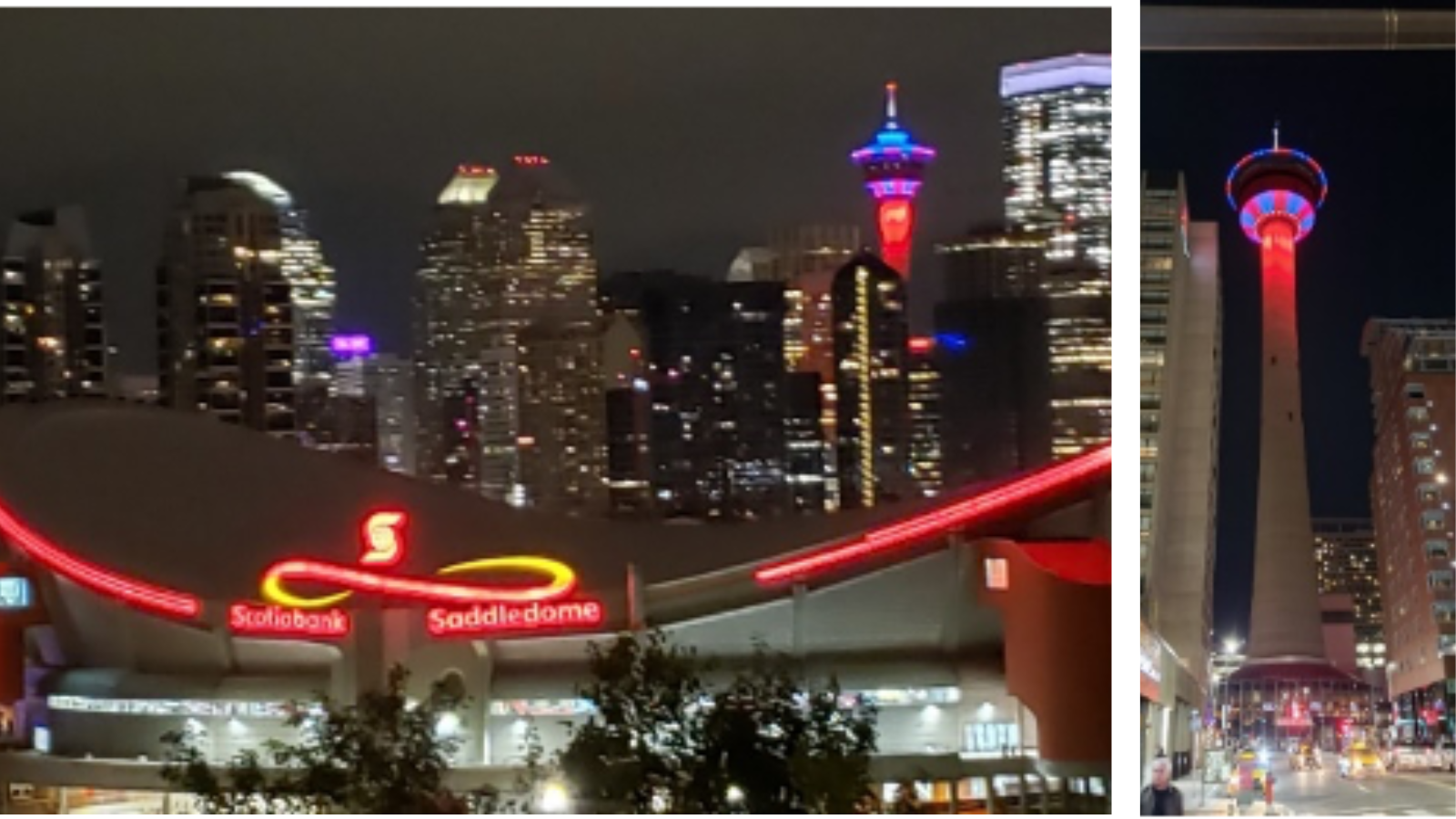 In 2020 due to COVID-19 restrictions, the in-person walk turned into a virtual walk with the partnership of the Canadian Pulmonary Fibrosis Foundation (CPFF) Hope Breathes Here campaign that ran for the entire month of September.  Participants throughout the month donated the kilometers they walked, strolled, biked online with the goal of virtually walking the 6,818 kms across Canada.  Over the month a total of over 20,000 kms were donated along with $70,000 raised in donations in 2020.  In 2021 a total of 15,000 kms were donated and $45,000 was raised in donations bringing the total donations raised since the event started in 2016 to $180,000 that has been donated to CPFF to help with research grants, patient support and public awareness of pulmonary fibrosis.
2022 Clarke Walk for PF