Congratulations to our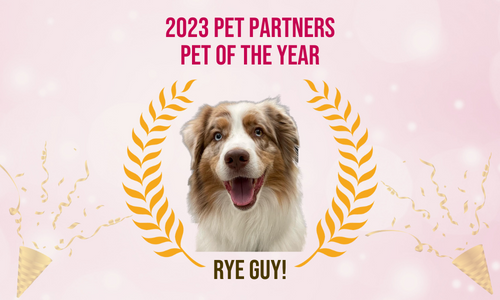 Rye Guy raised more than $14,000 in support of Pet Partners during the competition. Rye and his human Lindsey are a registered Pet Partners therapy animal team who love visiting children between the ages of 7 and 17 at Mayo Clinic, including the patients and their families flying into Rochester (MN) International Airport. In his spare time, Rye loves to do tricks and compete in agility competitions. Connections the team has made through visiting and competing played a big part in Rye winning Pet of the Year.
Does your dog stand out from the rest of the pack? Is your feline friend known for their amazing cat-itude? Perhaps your horse is ready to gallop into a new role! We have more than 100 pets competing in a six-week fundraising competition for the title of the 2023 Pet Partners Pet of the Year! 
This exciting fundraising competition is a perfect way to celebrate your best friend while supporting a great cause! Funds raised by pet candidates (with help from their favorite humans) will support the Pet Partners Therapy Animal Program. This amazing program brings unconditional love, happiness, and healing to millions of seniors, patients, veterans, and children in need all around the world each year.

The national title of Pet Partners Pet of the Year is awarded to the pet whose fundraising team raises the most funds during the six-week competition. The winner and runner up will be crowned at the close of the competition and awarded thousands of dollars in prizes for their efforts.
Important Dates
February 1, 2023:
A kickoff event on Facebook Live will officially mark the beginning of the six-week fundraising competition.
March 1, 2023:
At the four-week mark, candidates will celebrate the progress made so far and gear up for the final two weeks of fundraising. The leaderboards will be removed from the website for the remaining two weeks so the winner will be a surprise.
March 15, 2023:
Fundraising Deadline: All online donations, as well as mailed donations and signed sponsorship commitments received to date, will be tallied and credited towards each pet candidate's fundraising totals. 
March 16, 2023:
All pet candidates, committee members, family, and friends will be invited to join the virtual celebration as we crown the Pet Partners Pet of the Year. All pet candidates will be recognized for their incredible fundraising efforts and dedication to the human-animal bond.