It is with a heavy heart we must share that due to the COVID-19 pandemic, we cannot hold the 21st Annual Hill Country Ride for AIDS as originally planned for April 25th. This decision was not made lightly, but given the guidance from the Centers for Disease Control and Prevention (CDC), the City of Austin, and the State of Texas, it is clear that we would not be able to provide a safe, fun event for all of our participants. This also includes our remaining JoyRides for the 2020 season. However, the Board and I are thrilled to announce that we are going VIRTUAL!

Our mission is to raise funds for our beneficiaries providing HIV/AIDS services and prevention efforts, and they need us now more than ever as they are helping their patients stay healthy in the face of this pandemic.

We are encouraged by the fact that our community has faced adversity before. In fact, we were founded to address and respond to a health crisis. We have met these challenges head-on and raised over $10,000,000 in the last 20 years! We have dealt with isolation, fear, grief, and the unknown by creating a community of kindness to support those most susceptible to the effects of a health crisis. We are well equipped to respond to the COVID-19 pandemic in a way that raises support for the clients of our beneficiary agencies.
We deeply appreciate your patience as we work through the next steps of this year's Virtual Ride. We are committed to fulfilling our mission and having as much fun along the way as we can. In short, we will be:
Keeping our fundraising goals to maximize critical support for our beneficiaries and their clients
Creating a digital campaign with NEW physical and fundraising challenges
Listening to your ideas for how to make a Virtual Ride successful & fun
 We love this Family and will get together to ride and celebrate success, the hard work of our beneficiaries, and the resiliency of this community once we are able to do so.

Wondering how you can help now? If you're already registered, then keep fundraising, and invite your friends to register as Virtual Riders! Additionally, we welcome any suggestions from you on how to make this Ride season successful & fun. To share your thoughts, please fill out this form. 
In the next two weeks, we will be sending out more updates - so stay tuned! Have questions in the meantime? Read our Virtual Ride FAQ here.

Finally, we encourage all of our HCRA Family to follow the CDC guidelines, practice social distancing, and keep each other safe. And remember, the Ride is not canceled, it has been transformed into a Virtual Ride.  We
encourage you to continue your amazing efforts to help us raise much-needed funds for our Community of Kindness.
With love,
Taylor Stockett, Ride Director
& Tim Young, Board Chair
Dear Ride Family,

We can't tell you how much we appreciate your supportive responses as we transition to a Virtual Ride!

Through this unprecedented time, remember we are all in this together. Many of you have reached out asking for ways to help or pledging to double your donation. Some of you have shared stories of the hardships you're currently facing with your work, finances, mental health, and general wellness. Our recent survey overwhelmingly shows that people want opportunities to ride together, even if we have to do so at a social distance. We hear you!

Behind the scenes, we have been busy planning physical and fundraising challenges that we will begin to roll out over the next few days. To give you a preview, for the next 12 weeks, we will issue a challenge each Monday for you to complete that week. These challenges will range from cycling to fundraising to sharing your favorite carb-loading dinner. They will alternate weekly between physical and fundraising goals. Each physical challenge will have two options, so whether you're an avid cyclist or you are more of an "athletic supporter," there will be something for you. We'll also be announcing at least two Matching Gift Events and challenge prizes, and highlight the ways our generous sponsors are stepping up their support of our Virtual Ride.

Our first challenge will begin this Monday, April 6 and will be a physical challenge. So get your spandex ready!     

Here are some ways you can prepare for our challenges now:
Join our group on Strava and begin recording all your rides using the Strava app or by manually entering your activities from your computer (instruction here). 
As you complete challenges, snap and post your selfies to your fundraising page. And remember to tag us when posting on your social media using our hashtag: #HCRA2020
Invite friends to join as a Virtual Rider
Please continue fundraising through your personal page on our website! Y'all have already raised over $127,000 for our amazing beneficiaries and these funds will be critical to helping people living with HIV in the coming months.
Continue to practice social distancing and follow 

CDC guidelines
We look forward to having tons of fun with you throughout this campaign. Stay safe and healthy! 
Mask Update:
We're turning Ride shirts from previous years into masks for our beneficiaries and their clients. Pictured are some of our designs.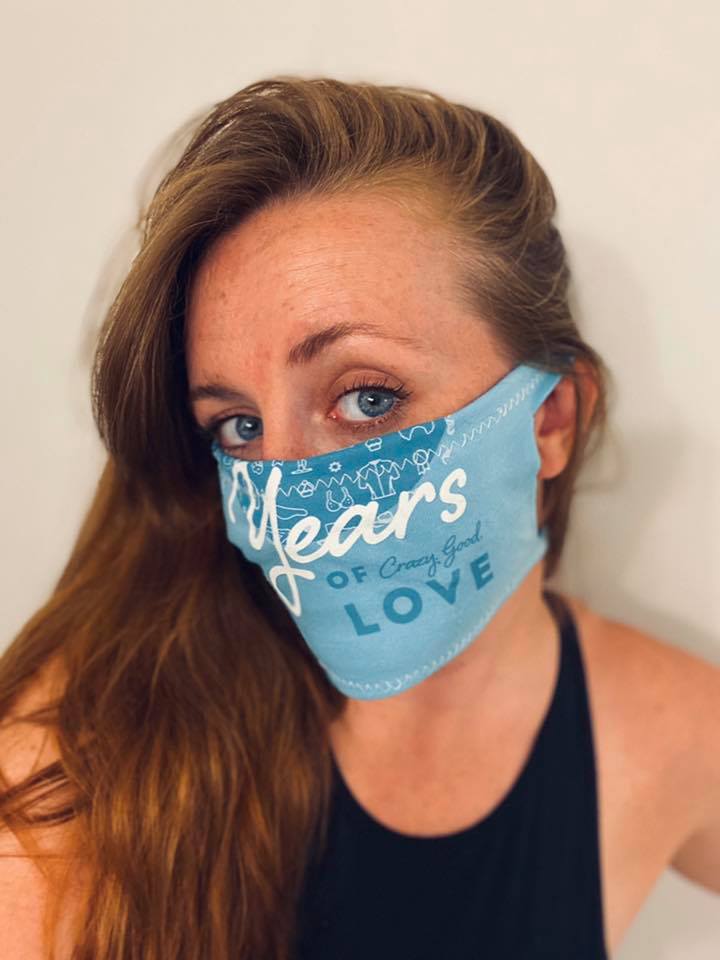 Help us get to our goal of 1000 masks for people affected by HIV by supporting our Virtual Ride campaign. Here's how you can help:
1. make a $5 donation at www.hillcountryride.org to sponsor the production of one mask for our beneficiaries.

2. send us a message to sign up to help with production (cutting & sewing to a pattern) or contactless pickup & delivery